Hey there,  
Welcome to Supriya's Banter. I am thrilled you made it somehow to this nook that houses all my crazy, messy Banter.  
My wanderer, vagabond temperament flows into all spheres of my life, be it my academic or creative interests, even into my reading and writing practices. I drift from book to book, genre to genre, prose to poetry, profound spiritual theories to totally wacky stuff, and everything else under the sun. I guess somehow; this space mirrors the way I am wound up.  
There are musings, short stories, contemporary poetry, books recommendations (something for all ages), and a sneak peek into my roller coaster ride as a mother.  
Before you take a stroll and get lost in the tangles of my Banter, let me sketch out a rough road map of a sort.  
Wondering where to start?  
Hop over to the Fiction to enjoy stories in all shapes and sizes.  
There are Tiny Tales (50 words and 100 words mini-tales), Postcard fiction (as they say, any story of that can fit on a postcard, i.e., —250-500 words stories), short stories (1500 words and above). Many have won writing contests on forums like Women's Web, Asian Literary Society, Penmancy, ArtoonsInn, Beyond the Box, Momspresso, and Mompreneur Circle.  
Because poetry is as essential to sustaining life on earth as, say, oxygen, you can get your check out the Poetry section for a quick breather. There are pocket-sized poems in Micro-verses to brighten your day and an assortment of poetry styles in the Medley of verses.  
I have a sizable inventory, but only a few have been showcased so far. It's a work in progress; I will add new content as soon as I possibly can.  
Confused about what book to read?  
A self-proclaimed librocubicularist (A person who reads in bed), a lectiophile (a-single-word-meaning-deep-love-of-reading), and a bibliophile, I have an insatiable appetite for the written word. I was that kid who dreamt about living in a library for the rest of my life with an uninterrupted supply of junk food. Over the years, the preferred junk food has changed, but the dream remains the same.  
Though I adore books in all forms and configurations, a physical book, with its woody-earthen aroma, and the feel of yellowed- sepia pages, is the preferred version.  
I hoard books and carry them everywhere. Sometimes, I forget my mobile phone but never a book. I constantly bounce between an assortment of genres. However, thrillers, crime fiction are amongst my favorite categories. Take a peek into the Mishmash subsection of Book reviews to get your book–fix.  
Living with two mini book nerds that I call my children ensures I read many picture books and middle-grade fiction. Many of them make their way into the book review subsections as picture books and Middle-Grade Fiction. The brats themselves have reviewed many of them.  
We, as a family, connect with books on a personal level and go with our gut. And that's precisely how we review them. You will be disappointed if you are looking for highbrow intellectual literary critiquing.  
Wait, there's more,
Musings houses everyday deliberations about people, behaviors, parenting, travel, and life. Some of them have been published by established platforms.  
Head over to The Usual Banter for a good laugh, or at least a chuckle. A tang of how my two sassy kids dress up everyday situations into hilarious anecdotes.  
My Books stock up the links and excerpts from my stories that have been published in the anthologies.  
And, finally! 
The accolades section is home to the appreciation and applause I have been blessed to receive from writing platforms and prompt-based competitions. I call them a pocketful of sunshine—as they light up even the most bothersome and challenging day. 
I hope you have a great time here! Enjoy!! (And Share?) 😉
A brief word about me:  
A doctor (a radiologist, if you want to know) by profession, I spend most of my hours in a monochromatic world comprising different shades of grey, ranging from black to white.  
Poking into the medical images of the human body, prodding them to make me privy to their tales, is the way I make a living and pay my bills.  Books enchanted me in all their avatars, and growing up; I preferred fictional characters over interacting with real people.  
You can't blame me! These enchanting paper thingumajigs have helped me tide over the most challenging moments of my life with remarkable ease. Though this obsession led me to be categorized into an ultra-studious, alien species, it earned me Gold medals in my graduation and post-graduation medical degrees. Not to mention, it planted seeds for creative writing within my soul early on.  
A closet-writer since childhood, I pursued writing in secret, endlessly scribbling the flights of my imagination in diaries and notebooks and not sharing it with the world.  
It took over twenty-four years in the medical fraternity, a vicious pandemic, and an unquenchable internal restlessness to nudge me into showcasing my writings on writing forums. The exponential delight and thrill the entire enterprise invoked never allowed me to stifle my stories again in those pretty journals. The stories wanted to flit, frolic, and float. Left with no options, here I am, building a sanctuary for them so that they can breathe out in the open and find their place under the sun.  
I leave you with a pocket-sized poem I wrote summing myself,  
Aimless,  
Chaotic, Cluttered,  
Yeah, that's me!  
Throw it away?  
Change it?  
Never!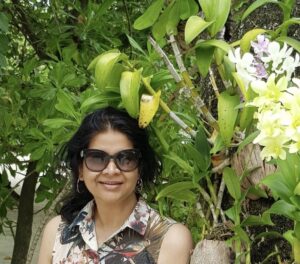 Go ahead, write that comment that's swimming in your head. I'd love to know what you think.  
You can follow me on other social media platforms. (social media links).  
Or ask your question. Contact me! (I'd love to hear from you)