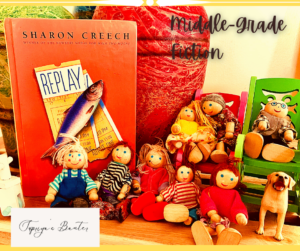 Replay
Author: Sharon Creech 
Genre: Realistic fiction  
Rating-4/5 
Category: Middle-grade fiction  
 Replay is a heartwarming story of Leonardo, called by his friends as Leo but addressed by his family as Sardine or fog boy. And not without valid reasons.  Leo is a nonstop dreamer—lost in the world he weaves in his head, dressing up everyday grim affairs and complicated woes in a thoroughly enjoyable Broadway version.  
You laugh out loud when Leo tries to interest his perpetually busy mother in answering questions about his childhood. And your heart curls around the edges with unspoken sadness when Leo mentions the changes in his father after his heart attack.  
Creech shows you an extraordinary world through Leo's eyes. The family drama of an Italian American family with tiffs between adults is well captured—the adult world from a kid's vantage point. The admonishment, the jibes by cousins, the well-meaning insults that Creech spotlights have happened to the best of all in family gatherings.  
As you read further—you realize more than daydreaming; Leo spins his yarn to get through the quagmires of life. A mare's nest, his daily existence is peppered with bitter travails. Being invisible to the parents, always being sandwiched between brothers and sisters, and being an average Joe at school are a few of his predicaments. Creech reveals Leo's issues piecemeal, more like a peep into the door when more troubles come knocking. 
Leo grows up right before your eyes as he pores over his father's diary—the autobiography of Giorgio, age of thirteen. His world opens up as he struggles to find his own reflection in his young father. 
Creech paints a vivid picture of Leo's struggles, the adults' trials and tribulations, and the perplexity of life in general. 
Few of my favorite quotes from the book— 
"Leo can only make sense of the things when he is alone, thinking or when he writes." 
"You might be a little dorky, a little nobody kid, but might be an amazing grownup. The whole point is you can change." 
"To have someone you love, go— it must leave a big empty hole in yourself, and no one can see the hole, only you." 
Verdict— 
A peck of innocence, a breeze of child-like wonder, this book entices, satisfies, and impresses you at the same time. The vibrant writing would delight you. 
The smile on my face refused to leave long after I had finished the book.