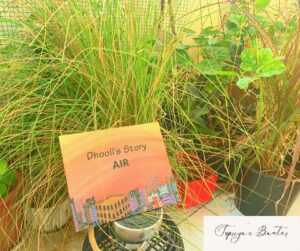 Dhooli's Story-Air (English) 
Authors: Shubhangi Goel, Sankhalina Nath, Rajasee Ray, Anushka Kalro  
Illustrators: Shubhangi Goel, Sankhalina Nath, Rajasee Ray, Anushka Kalro  
Publisher-Tulika 
Age group-4+ 
Genre-science around us 
Rating-4/5 
When it comes to books based in India, Tulika is one of our preferred publishers. The stories are dripping with entertaining, amusing content, striking, humorous illustrations with always a takeaway, both for the kids and the parent. 
This story revolves around Dhooli, a speck of dust floating around with her friends.  
She, a clever one, knows a lot about the air that carries her and another playful, rambunctious playmate wind.  
A smattering of science facts about wind and its gentler version, rainbows, and clouds lead to discussions and a horde of questions about thunder and lightning. The book sparks an interest in how something as tiny as a dust particle can still make a world of difference.  
It was rewarding to relearn how a dust particle can change the surrounding vista. Just imagine the hues of skies and sublime sunsets have Dhooli's whim to thank for their beauty.   
The colors of the sky varying from blue to white and turning pink at dawn, or red, yellow, and orange because of tiny Dhooli's and her pals piqued the kiddo's interest, too. This again led to an exciting discussion with the kids coming up with stories where a seemingly insignificant creature had turned the tide. And how teamwork matters. 
One of my cheeky monkeys even compared the air with its gentler, fierce, playful version with the many moods of her mother. What can I say? I grinned and bore it up, consoling myself with an age-old dictum—it's more important to ensure that they know how to think, more than what to think. 
Later, I overheard the little one chatting with her friend about the skies' ever-changing colors into pink or red. Her account was an edge-of-the-seat thriller, full of twists and turns—a truly electrifying and best seller version. I smiled and repeated the same mantra in my head—at least I made them think.  
A thoroughly satisfying read with a dash of science, moral lessons, and motivation lessons combined. Why can't we have traditional schools adopting this technique? I wish they would. I ended up learning a lot more than I would have had I read a scientific paper about dust particles.  
Note: This book is one of the five books in the series, First Look Science, visualized by design students in a classroom project with Srishti, Bengaluru. The series is supported by Wipro as part of its Wipro Applying Thought in School initiative. Read the reviews of the other books here.