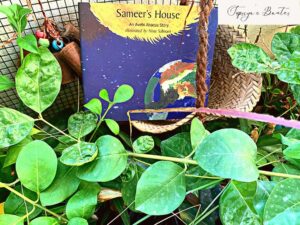 Sameer's House (English) 
Authors: Deepa Hari & Deepa Balsavar 
Illustrator : Nina Sabnani 
Publishers-Tulika 
Age-3+ 
Themes- geography, universal connection, 
Rating-4/5 
If you are someone like me, then you would have seen hundreds of projects on Pinterest teaching kids about their place in the world. When we read this book the first time, I did the project with the older one, and I thought of doing it with the younger one as she is the right age. So, we went back to the book and followed it up with a craft. I've attached the artwork pictures at the end(my contribution to the billion photos that are already burgeoning the internet at its seams). 
So, coming to the book. It explains this fundamental, dynamic concept with beautiful and engaging illustrations. I have other books on the same idea, but this one has always been the preferred version. The kids adore this book because of its Indian connection. The narrative is a vivid, visual journey of expanding horizons, from one's house to the universe—the authors approach the theory of how everyone is connected in a fresh, appealing way. 
The pictures zoom out from Sameer's house on his street in Mumbai to the star-studded universe. The kiddos get excited as the world expands a tiny more with each turn of the page. It was gratifying to watch my little one process the information—her small world consisting of her family and a house could be a part of something so vast. 
The book offers the kids a window in geography, increasing their global awareness as they grasp the idea of a city, state, country, and continent. 
The surprise in their eyes is unmistakable as they compare the tiny size of their world compared to the actual world they belong to. The book accompanied by the craft is a remarkable tool for the children to identify and compare themselves, their friends, communities, and the world based on geographical parameters. 
The illustrations by Nina Sabani are the all so important wheels that carry the narrative forward. I am a fan of her pictures, and we are proud owners of many of the books she has illustrated. 
The craft became more interesting because of the premise and the stage the book had already set. 
So, if you decide to have a conversation with a similar topic with your kids on a rainy afternoon, this is your go-to book. 
As an adult, this book nudged me to look up Carl Sagan's quotes from his book The Pale Blue Dot. I leave you with this quote and the picture I took from Google: 
"Look again at that dot. That's here. That's home. That's us. On it, everyone you love, everyone you know, everyone you ever heard of, every human being who ever was, lived out their lives. There is perhaps a no better demonstration of the folly of human conceits than this distant image of our tiny world. To me, it underscores our responsibility to deal more kindly with one another and to preserve and cherish the pale blue dot, the only home we've ever known.''