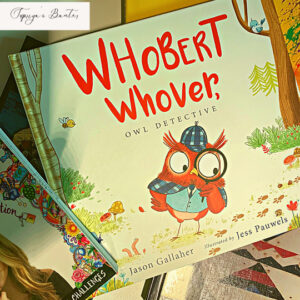 Whobert Whover, Owl Detective 
Hardcover–Picture Book, July 18, 2017 
Author- Jason June 
Illustrator- Jess Pauwels 
Publisher‏: Margaret K. McElderry Books 
Language‏: ‎ English 
Hardcover‏: ‎ 40 pages 
Reading age‏: ‎ 4 – 6 years 
Themes: mystery, observations, detectives, humor 
Genre: Children's Fiction Picture Book 
Rating- 3.5/5 
Perry possum is lying on the ground, and ace detective Whobert, the owl, is on the case. "I will find out who, who done it!" he exclaims time and again, spotting feathery evidence, footprints, getaway trail, and other clues in this lively pocket-size crime fiction for young sleuths. 
Whobert interrogates forest dwellers in his quest to keep the woods safe. Even in the face of repeated denials by the suspects and misleading clues. Whobert is persistent, and how! 
The clever wordplay and the scattered clues keep the matters engaging. The adorable digital artwork adds oodles of charm to Whobert's antics. 
Witty rhymes, hilarious banter, and generous use of alliteration complement the fun storyline. 
The ending, of course, sheds light on the natural behavior of animals and is such a hoot! 
This silly read-aloud is for the budding sleuths to hone their skills.