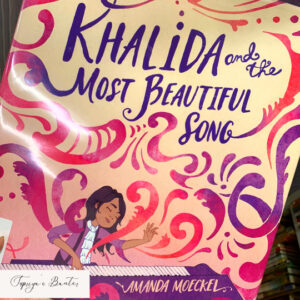 Khalida and the Most Beautiful Song 
Hardcover–Picture Book 
Author- Amanda Moeckel 
Publisher‏: Page Street Kids
Language‏: ‎ English 
Hardcover‏: ‎ 32 pages 
Reading age‏: ‎ 4 – 8 years 
Rating-4.2/5 
Sometimes you find a picture book you feel is a page from your life. Khalida's frustrations to catch the song swirling in her head as she deals with the daily demands of life and frequent interruption by teachers and parents would resonate with people in pursuit of their passions. 
Any creative person would tell you the irritation and disappointment one feels when one fails to catch an idea. Moeckel weaves a fantastic story about this personal quest and captures the essence of the sentiment in the most charming way. 
Khalida is in bed when a song whirls in her mind. The determined Khalida tries to chase it but is repeatedly disrupted by school, chores, piano lessons, and whatnot. Then, just like that, the sights and sounds stir the melody alive when she thinks all is lost. Not wanting to let it slip away again, Khalida dashes past the evening crowd and the setting sun, her dark hair flying. The end result is deeply satisfying and a fitting culmination to all the frustration Khalida had wrestled her way through the day. 
The gorgeous watercolor, graphite, and digitally rendered illustrations are captivating and complement the story wonderfully. The details in the bedroom, the song twirling in the background, and Khalida's head add zest to the story and render the plot a lyrical sheen. Khalida's expressions of yearning to grasp her inspiration, the dissatisfaction that creeps in, and the jubilant exhilaration say it all! 
VERDICT 
A must–read for children with passionate interests. This celebration of creativity, childhood dreams, passions, and the power to create magic is a message every kid needs to hear! 
A thoroughly satisfying, delightful read!