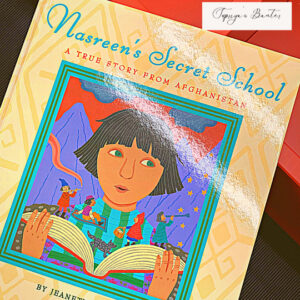 Nasreen's Secret School: A True Story from Afghanistan 
Hardcover–Picture Book 
Author/Illustrator- Jeanette Winter 
Publisher‏: Beach Lane Books; Illustrated edition 
Language‏: ‎ English 
Hardcover‏: ‎ 40 pages 
Reading age‏: ‎ 6 – 10 years 
Rating-4.5/5 
Sometimes you stumble upon a picture book that talks about a grave issue. Yet presents it in a manner that is not only appropriate for the intended age group but also touches the heart of the parent reading it because of its sheer simplicity. 
Winter weaves a powerful and poignant tale, accentuating the shifts in Afghanistan under Taliban ruling. It is a story of Nasreen, who forgets to speak and smile the day the soldiers take her father away "with no explanation." Mother follows suit, defying the ruling regime. The parents never return, and a worried, heartbroken grandmother finds the bitter shadows of dictatorship tormenting little Nasreen. She reminisces—"The art and music and learning are gone. Dark clouds hang over the city." 
In her crusade to assuage Nasreen's deep-seated anguish, the grandmother smuggles her to a "secret school" in a private home. The pages where girls hide their books and lessons from the Talabani guards are heart-tugging. The school, the brave-heart teachers, girls' bright scarves, and their innovative ploys to trick the soldiers are a testament to the tremendous heroism of Afghani women. 
The sheer tenacity of optimism and endurance in the face of such adversity is mind-boggling. Of course, this is enough reason for some countries to ban the book. 
Winter's acrylic artwork with rich colors and simple composition makes their everyday terror, brutal reality, and strives all the more real. The joy one feels at Nasreen's emotional breakthrough is tangible and palpable. 
Understated, yet so potent. 
One can only bow to their eagerness, valor, and boundless optimism. The grandmother sums it up when she says, "the soldiers can never close the windows." 
Compelling, dynamic, and soul-stirring! A definite recommendation for the older age group!