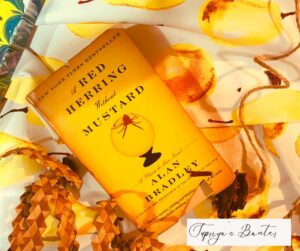 A Red Herring without Mustard -A Flavia De Luce Novel 
Author -Alan Bradley 
Theme-crime/mystery 
Rating-4.8/5 
The book is set in the 1950s in the picturesque village of Bishop's Lacey. The protagonist, Flavia de Luce, an eleven-year-old English aristocrat, lives in this remote hamlet with her two sisters—Daphney and Ophelia and her father in their ancestral home—the Buckshaw estate. Flavia has a penchant for chemistry; she is spunky, ingenious, a spur-of-the-moment liar—all the qualities she thinks one needs in a professional investigator. 
In this book, Flavia investigates an almost death of a gypsy woman who is bludgeoned on her father's estate.
She hangs out with the staff rummaging for clues, filing information in her head for future use. Flavia waltzes around police, disclosing as little as possible, and loves a good murder. A backdrop of a missing mother, a philatelist father worried about dwindling wealth, and two sisters proficient at hatching traps make for an appealing milieu. 
Bradley creates bumps, and Flavia delights the reader by quelling them to the ground, time and again. 
Soon, the body count escalates. Brookie Harewood—'a local riffraff' is found hanging by a fountain shaped as Poseidon with a De-Luce silverware shoved up his nostril and into his brain. And the plot thickens, as they say. 
An expert at picking trails, Flavia locates breadcrumbs when there seem to be none. Red herrings are galore—a dead baby, fishy smell, missing and duplicate firedogs, misplaced silverware, bogus antique dealer, and what not! 
Flavia is bold and amusing; she wards off attacks with fierce battle cries and even handles pranks, poisons, and philately, with expert ease. This preteen detective sleuth with her sidekick, Gladys, her feisty bicycle ferrets for clues and hidden agendas and is willing to go to any lengths.  
Her uncanny observation power and the charming ability to reach subtle yet profound deductions about people and circumstances grows on you. 
Bradley generously references Shakespeare, Sherlock Holmes, and even the Bhagwat Geeta, throwing in kindergarten rhymes and riddles for good measure. A king of metaphors, Bradley splatters the narrative with original, creative analogies—some thought-provoking, some side-splitting funny. 
Flavia is a fascinating combination of Holmes's action-packed deductions, Poirot's clever grey cells, and Miss Marple's efficiency of picking rumors from the unsuspecting villagers. 
Shored away in her chemistry lab, she plays with chemicals to fight monotony. She wrecks one dress after another, hunting mysteries, much to her father's resentment, and even gallivants around the town, gathering hearsay and possible murder weapons. 
Go for it if you love an excellent mystery and, as Flavia says—a good murder. This charming, witty, perceptive detective will chart a way to your heart. Narrated in the first person—in Flavia's voice, Bradley takes the liberty of being hilarious, engaging, and cheeky. And that makes the book a delightful experience. 
As far as I am concerned, Bradley has me hook, line and sinker. 
I am already looking forward to my next Flavia novel.