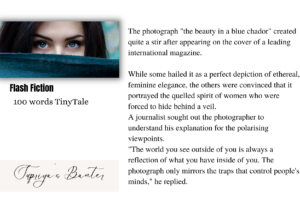 The photograph "the beauty in a blue chador" created quite a stir after appearing on the cover of a leading international magazine.
While some hailed it as a perfect depiction of ethereal, feminine elegance, the others were convinced that it portrayed the quelled spirit of women who were forced to hide behind a veil.
A journalist sought out the photographer to understand his explanation for the polarising viewpoints.
"The world you see outside of you is always a reflection of what you have inside of you. The photograph only mirrors the traps that control people's minds," he replied.
#pocketstories
#tinytales
#flashfiction
#100wordstales
Photo by Alexandru Zdrobau on Unsplash