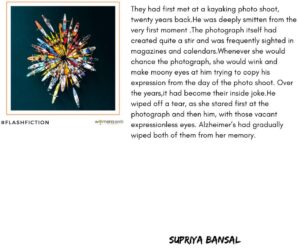 They had first met at a kayaking photoshoot twenty years back. He was deeply smitten from the very first moment.
The photograph itself had created quite a stir and was frequently sighted in magazines and calendars.
Whenever she would chance the photograph, she would wink and make moony eyes at him, trying to copy his expression from the photoshoot day. Over the years, it had become their inside joke.
He wiped off a tear as she stared first at the photograph and then him, with those vacant expressionless eyes. Alzheimer's had gradually wiped both of them from her memory.
#100wordsminitales
#pocketstories
#tinytales
I composed this tiny tale for a prompt contest by Women's Web. The prompt was to weave a 100-words story on the given picture. The story was chosen as one of the winners.