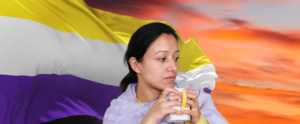 Ding!
A tap of Anuja's finger jostled the screen to life. The message said, "Dining deals to make you swoon!" Before she could react, the phone buzzed in quick succession.
Ding! Ding! Ding! 
"Spend a perfect day with the chosen one!"
"In the name of love — gifts too sweet to miss!"
Anuja rolled her eyes and let out a sigh. "Just another day of capitalists fleecing the love-crazy public. Not interested," she cursed and choked the screen to turn dark.
She hastened to the bathroom. Today was an important meeting with a corporate giant at her firm. As a senior financial analyst with enviable analytical competency, degrees from an elite business school, and years of experience, she was sought after by the crème de la crème.
Read the whole story here-Kisses And Cuddles Are Not For Me, But I Belong Right Here!