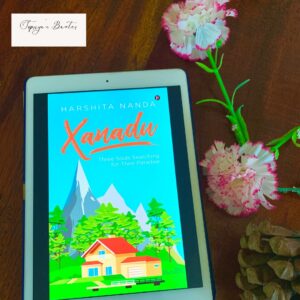 Xanadu-Three Souls Searching for Their Paradise 
Author- Harshita Nanda 
Genre- Fiction 
The book chronicles the tumultuous lives of the three protagonists, Anita, an elderly spinster, Bhoomi, and Harish, young children at the mercy of single, heartbroken parents. 
Their paths cross, and the trio embarks on a journey transcending the border of time and place they could never imagine undertaking. 
It is a journey that translates into a heart-rending separation and a piteous ordeal of a lonely existence. But while the protagonists carry on their disparate, desolate lives, their paths cross and converge on a common destination they never knew they were looking for. They stumble upon their metaphorical and literal Xanadu (an idyllic home of magnificence and beauty) just when they abandon the dream as a mirage. 
The book opens up with a brief introduction of Anita, an elderly daughter of a British Burra sahib, trudging through life shadowed by past and long-gone glory and opulence. Bhoomi, a young, much-loved child living in her cocooned reality, steps in next. Her world is thrown into tumult, and her sheltered existence amidst the rugged mountains and hilly terrain is ripped apart. 
Nanda makes the mountain topography come alive with her sublime poetic descriptions. 
Amidst turbulence and uncertainties, the duo finds a rare comfort in each other. The balance is shifted with the arrival of Harish, a motherless child of Anita's gardener. Nanda builds up emotional sensitivity and vulnerability in these characters by fleshing out poignant backstories. 
An air of calm and sublime stillness encloses them as they spend hours together under the Neem trees of Anita's orchards. The three unlikely companions seem to be adept at salving the wounds and healing the cracks in the other's souls, but it is not to be. As if their internal chaos multiplies manifolds, transforming into a vortex of external disruptions, ravishing them bit by bit. 
Fate tears them apart, throwing them into a quagmire of dejection, despair, and bitterness, all the more intensified by their loneliness and tangible memories of their shared camaraderie. 
The rest of the story is about them overcoming the odds and basking in the warmth of their togetherness, amity, and easy affability. Their Xanadu comes into being, materializing like it was never lost. As if it was always there, shrouded by the mist of their oblivion, and they would have found it had they tried hard enough. 
Nanda's strength lies in weaving realistic personalities and letting their visceral emotions blaze through. The pace is mellow, the language lucid, and the characters familiar. Yet the sentiments are tactile and humane, and the challenges stifling and tumultuous. 
A feel-good book about joy, regrets, and second chances!