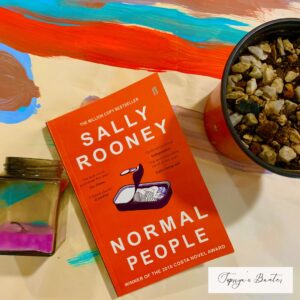 Normal People 
Author-Sally Rooney 
Publisher‏: Hogarth Press (16 April 2019) 
Language‏: ‎ English 
Hardcover‏: ‎ 272 pages 
Rating–4.5/5 
Sometimes you come across a book that is melancholic, romantic, and at the same time, absolutely unputdownable. Rooney's book is about intense love and equally intense mourning. So much that it is tangible and makes its way into readers' thoughts and bleeds into their day. And that is precisely the reason it took me a while to pen a review for this book. The book is about obsession, social class, financial gaps, furtive love affairs, and misunderstandings. The hapless characters make mistakes, hell-bent on screwing a rare love, time and again, as if justifying the title. 
The main characters are Marianne and Connell, teenagers who are drawn together by irresistible physical chemistry. However, they represent the opposite extremes of the spectrum. He is popular at school and a star athlete; she is a recluse and eccentric in her ways. She is wealthy, but he isn't, so much so that Connell's mother is employed as a cleaner by Marianne's family. But both are academically inclined and brilliant in their chosen fields. 
Since Connell often accompanies his mother to Marianne's luxurious mansion, the duo finds enough opportunities to sleep together. However, he doesn't acknowledge Marianne at school for fear of losing his popularity. At the school dance, he takes things too far by asking someone else. Shattered and shamed, Marianne withdraws from school and Connell's life. 
The story moves ahead with both of them winding up at Trinity College in Dublin. However, the tables are turned this time. At college, Marianne is the popular kid, basking under the undivided attention of her artsy, cosmopolitan admirers, while Connell struggles with loneliness, depression, and isolation. 
Over the next four years, they become unconventional lovers, challenging accepted romantic practices and breaking each other's hearts with practiced ease. They come together many times, only to fall apart. As you read through, the emotional intensity of love, separation, and heartache weighs on your mind; the agony, anguish, and uncertainty of young love grates on your nerves. 
Rooney's writing is unconventional; she defies and crushes standard writing practices with elan to create a fresh and unorthodox book. 
Readers drift in and out of Marianne's and Connell's minds—feeling, seeing, thinking, and grappling with distressing circumstances. There are dialogues, but no tags—Rooney does away with "he said, she said" instructions for the reader. There isn't much punctuation. Yet it doesn't seem like a stream of consciousness. And that exactly showcases the sheer brilliance of the writer and her grip over the narrative. 
The book is not without its shortcomings. Yet it is raw, crisp, and contemporary. The characters are confused, uncertain, misguided, and as normal as today's woke generation. 
This coming–of–age love story celebrates the urban metropolitan culture and carves a new definition of normalcy as it explores the nuanced spirited journeys of the two main characters. 
Definitely worth exploring! 
Raw, crisp, and contemporary
Creativity, Style, and Originality
This coming–of–age love story celebrates the urban metropolitan culture and carves a new definition of normalcy!