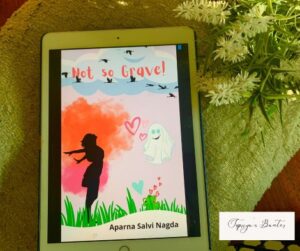 Not so Grave 
-Commentary from Beyond 
Author-Dr. Aparna Salvi Nagda 
Language-English 
Format-Kindle 
Aptly named, the novella explores the not-so-grave side of death, loss, and grief. Narrated by a recently deceased Robinhood Singh, aka Robu, a boisterous Punjabi Dhaba owner in Delhi, the book is a deep- dive into self-discovery that follows when a family loses a central figure—someone who binds disparate, distinctive characters together. 
Aparna tracks the journey of bereaved family members and forces Robu to realize bitter truths, exercise detachment, and relinquish control in her quirky, lighthearted style. Though the theme appears intricate and tangled, Aparna treats it as anything but. 
At first, Robu, in his raucous Punjabi avatar, takes center stage, and readers are regaled with honest and razor-sharp digs at the extended family. A generous helping of profanities and references to mouth-watering street food sets the tone. 
As the narrative advances, readers delve deeper into the characters of Beeji, Robu's feisty and unorthodox mother, who hands out Kada Prasad and a vibrator to a grieving daughter-in-law with equal ease. 
Pushpkala, Robu's wife, a Tamil Brahman, is miles apart from Beeji in terms of ideology, temperament, and personality. Yet, bereft of the man that tied them together, the women forge new connections and evolve into empowered beings. 
Many colorful characters like Ranjit, Balwant, and neighbor aunties shimmy in and out of the Singh Household, adding lightness and zest to the narrative. Through understated sarcasm, Aparna brings out situation-incited greed and callousness. A generous helping of all things Bollywood highlights Robu's boisterous character with aplomb. 
The novella is written in simple language with a smattering of Hindi and Punjabi. Though non-Hindi-speaking readers may find it a hindrance, I found it highly entertaining. 
Aparna keeps the narrative relevant and imparts critical lessons through wit, sarcasm, and humor. She underlines family dysfunctionality in the face of death and loss, addressing the issues that most people brush under the carpet. 
She manages to impress the readers with her natural flair for wry sarcasm and inimitable metaphors. It is refreshing to see someone tackle a complex issue in her debut novel and deliver an interesting read. The book is not devoid of flaws, yet it isn't something that affected my engagement. 
Let me borrow Aparna's lines to sum it up—it's not bad at all! Do try it once! 
Not-so-grave side of death, loss, and grief
Creativity, Style, and Originality