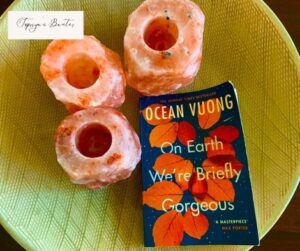 Author- Ocean Vuong
Publisher‏: Penguin Press 
Language‏: ‎ English 
Theme- LGBTQ, Loss, Racism, mourning, depression 
Rating-4/5 
When I picked this book, I was yet to realize that the book would be as gorgeous as its name and cover. The book is raw, romantic, and yet incredibly sad. But not in a way that makes you desert it midway. The book is bittersweet, humming with lingering aches, inviting you to scrape at it like a crusty clotted scab you can't stop picking. 
Vuong frames the semiautobiographical novel as letters addressed to his illiterate mother, secure in the knowledge that she would never be able to read it. "What I am about to tell you; You will never know… I am writing to reach you." 
Through a piecemeal narrative, we get a peek into Vuong's troubled and tormented childhood fraught with bullies, an overworked mixed-race mother, and an alcoholic, abusive, and largely absent father. Vuong refers to himself as Little Dog, a nickname given to him by his elderly grandmother, Lan, who has schizophrenia and cancer. The book is a social commentary on growing us as an outsider—a successor of Vietnamese immigrant parents in the US, a gay teenager, raised on Goodwill stores and food stamps. But it is told as an elaborate poem—lyrical and haunting. 
Devoid of structure and timeline, the narrative jumps from memory to memory and, at times, becomes disjointed. The readers are introduced to Trevor and Little Dog's sexual eccentricities with gusto. Trevor—a slightly older kid who drives a pickup truck and shoots and skins raccoons, makes Little Dog feel wanted in his skewed way. 
The protagonist's childhood and his years with Trevor create a brilliant immersive reading experience. However, at times, language in the many sections appears overbearing and weighs heavy on the plot. 
The book could be compared to an abstract painting. Many would think of it as one of the superlatives and genius work, while others would see it as pretentious and farcical. Stay away if you demand a structure and flights of thought and fragmented scatter of memories irritate you. Strictly for people who don't mind experimenting and reading an elaborate lyrical piece, which may require multiple readings to get to the root thought in the author's head. 
Some quotes from the book 
"That's what writing is, after all the nonsense, getting down so low the world offers a merciful new angle," 
"The truth is we don't have to die if we don't feel like it. Just kidding." 
"Then his eyelashes. You could hear them think." 
"I believe the wound is also the place where the skin reencounters itself, asking of each end, where have you been?" 
"Looking back at Trevor, he thinks: "I studied him like a new word." 
 I enjoyed it; it was one of the rare books to be savored and appreciated. 
About the authors :
Ocean Vuong is the author of The New York Times bestselling poetry collection, Time is a Mother (Penguin Press 2022), and The New York Times bestselling novel, On Earth We're Briefly Gorgeous (Penguin Press 2019), which has been translated into 37 languages.
Read more about them here: 
A relevant social commentary
Creativity, Style, and Originality
Clarity of imagery, and language
An elaborate poem! deep and poignant.