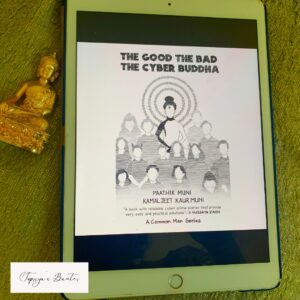 The Good The Bad The Cyber Buddha: A Common Man Series 
Kindle / Paperback 
Author- Paathik Muni, Kamaljeet Kaur Muni 
Language ‏ : ‎ English 
In this digital age, when one is surrounded by cyber menaces and hackers are waiting in the wings to exploit your ignorance, it is mandatory to acquaint yourself with the basic rules of the game. 
Most of us enjoy the ease and practicality of smartphones but barely understand the nitty-gritty of safe practices. Many people want the know-how in this field but detest getting bogged by unfamiliar terms, heavy terminologies and complicated steps. I, of course, belong to this group, and for the longest time, I wanted someone to break it all down into simple, easy-to-digest chunks. The book does this and so much more. 
It is a one-stop shop for common cyber safety queries, a road map or guide to help one dodge digital threats, and summed up in an engaging and contemporary narrative. 
The dangers and sound practices are underscored by the interaction of seven strangers at a house party. The brief everyday anecdotes make for an engrossing read; these stories help ingrain the explanations to one's memory because of their personal and emotional tint. The illustrations at the beginning of the chapters offer pocket-size nuggets of intrigue and insights. 
The narrative is summed up in 25 chapters and encourages the readers to reflect on similar instances with their friends and families. It nudges one to think over possible steps that could have been undertaken to thwart unwanted consequences. 
Paathik's expertise as a cyber lawyer shines through as he highlights digital perils, relentless attackers, and the risks of even a single uninformed action. 
This fast-paced, page-turner prompted me to change all my passwords, update my anti-virus software and activate multiple layers of protection for my online accounts. The checklist at the end is compelling and concise. 
A must-read in today's day and age. I almost highlighted the entire book, and I would definitely return to these sections for quick updates delivered in an easy-to-follow, compact dose. 
I absolutely concur with the book's blurb—the book is a bible of cyber security for a common man! Not to be missed!