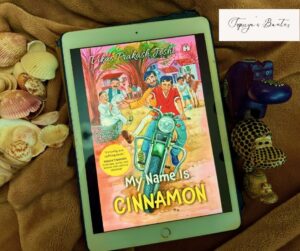 My Name Is Cinnamon  
Author: Vikas Prakash Joshi 
Publisher‏: ‎ Hay House Publishers India  
Language‏: ‎ English 
Paperback/ Kindle 
 Is the life of an adopted child different? Are the characters and traits they inherit from their birth parents confuse them? Do they subconsciously want to imbibe qualities from adoptive parents? Why does a seemingly happy child feel inclined to look for his birth parents all of a sudden? Does it bring the solace they are looking for? 
Vikas Prakash Joshi tackles all these sensitive issues in his clever and beautifully crafted book—My Name is Cinnamon.
Roshan Rishikesh Paranjpe, aka Cinnamon, is a cheerful fifth-standard student with an army of friends. Multiple subjects, ideas, and events fascinate and stimulate his curiosity. Though he excels at art and sports, maths is his Achilles heel. But the Paranjape family is as happy as can be in their tight-knit family unit. 
Unexpected troubles soon swamp the Paranjape clan. A seemingly innocuous denial of a purchase of a luxury bike sets off a shocking chain of events. Something that threatens to tear apart the very fabric of love and trust that holds the family together. The rest of the narrative tracks Cinnamon's pursuit to piece together his past to make sense of his present world. 
Joshi charts the trajectory of Cinnamon's emotional and behavioural journey quite well. With expert ease, he spotlights the adoptive parents' unique challenges; he catches them at their most vulnerable moments. The array of conflicting emotions—the fear, worry, jealousy and anxiety that crop up in an otherwise logical and worldly-wise adoptive mother is portrayed with compassion. Joshi highlights how it isn't easy for any parent to see their kid struggle with difficult emotions and to keep the child's interest ahead of their own. The story culminates on an emotional note but not without shining a light on a medically rare disorder and raising awareness about it. 
Joshi breathes life into the narrative. Hilarious nicknames for the teachers and fellow students, witty metaphors and Cinnamon's parents' banter keep things light-hearted and jaunty. The clever layering of the story with the food, local aroma, culture and culinary practices adds oodles of charm. 
Joshi explores the flavours of regional Indian cuisine, from traditional Maharashtrian feasts to sumptuous dishes of Kolkata, Gujrat and Madhya Pradesh. But these details sometimes weigh heavy on the narrative and seem distracting. The part about Cinnamon meeting his birth parents gets a tad lengthier, but it is entirely my perspective. 
The book is quirky, fun and an easy read. The language is lucid, with a clever weave of amusing metaphors and similes. 
The adorable illustrations by talented Niloufer Wadia add extra sparkle. Blending a mature theme in a recipe brimming with innocence, playfulness, and joy isn't easy; Joshi makes this impressive feat look effortless. 
This book is a window into the blissful, buoyant days of youth; the balmy redolence from Cinnamon's life stays with you long after you finish the book. 
Pick it up if you wish to be whisked to those magical years, once again! 
Disclaimer- The book was sent to me for a review by Author Vikas Prakash Joshi.