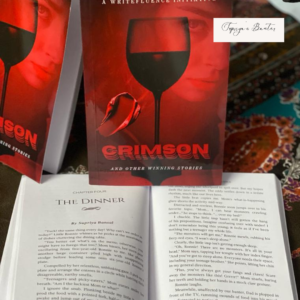 The delivery boy comes to a sudden halt. I grab Ronnie by his collar, pulling him back at the last minute; a second delay and the imp would have tripped over the guy. I agree we haven't had a delicious meal for a while, and his eagerness is natural, but we still have to play by the civil code.
–an excerpt from my story -The Dinner, Crimson and other winning stories from WriteFluence
More About this book:
Crimson is a collection of the winning short stories written by writers across the globe for The Open Theme Contest organized by WriteFluence. The book consists of 21 literary pieces that were selected from 97 submissions that had been received from all over the world for the contest.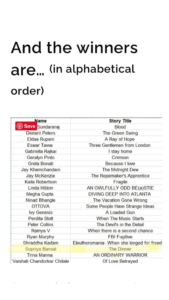 AUTHORS IN THIS BOOK
Aneeta Sundararaj, Denarii Peters, Ektaa Rupani, Eswar Tavva, Gabriella Rajkai, Geralyn Pinto, Greta Bonati, Jay Khemchandani, Jay McKenzie, Kaila Robertson, Linda Hibbin, Megha Gupta, Ninad Bhangle, Ottova Bohumila, Peter Collins, Ramya V, Ryan Murphy, Shraddha Kadam, Supriya Bansal, Trina Manna and Vaishali Chandorkar Chitale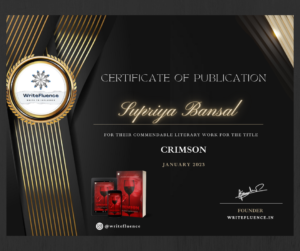 ABOUT WRITEFLUENCE
WriteFluence is an innovative literary arts consultancy featuring authors and showcasing their talent. WriteFluence provides literary services such as publishing, book editing, proofreading, book designing, author branding, and book promotions.
Crimson is now available for purchase in the paperback format on Notionpress (India), Flipkart in the paperback format, and in the ebook format on Kindle and Kindle Unlimited.
Links to buy-
The book is available free on Kindle Unlimited!