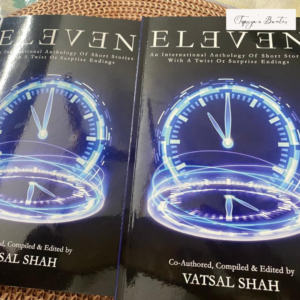 Eleven- an International Anthology of Short Stories with A Twist of Surprize Endings
Super excited to have my story 'Stolen Treasures' included in the book! The another anthology got released  both in paperback and ebook format!
Presenting "Eleven" by InkQuills Publishing House!
More about this book-
"ELEVEN" is an interesting mélange of short stories from 11 different authors from across the globe.
These stories weave together various genres such as romance, suspense, slice of life, horror and science fiction. However, all of them have one thing in common – a 'twist in the tale' or a 'surprise ending'.
Each author displays remarkable talent in their brilliantly crafted stories which showcase freshness of content, creativity and emotional depth.
This anthology has ingenious stories with richly drawn characters that will captivate your imagination and leave you spellbound.
Grab Your Copies Now :
*_PaperBack_*:
*India:*
*_E-Book_*:
#supriyasbanter
#writerscommunity
#anthology
#twistedtales