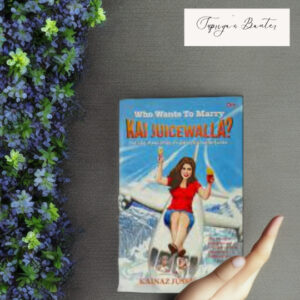 Who Wants to Marry Kai Juicewalla?: One life, Many loves, Endless (Mis)adventures 
Author-Kainaz Jussawalla 
Publisher: Om Books International 
Paperback: ‎ 408 pages 
'Who Wants to Marry Kainaz Juicewallah' is a one-of-a-kind memoir by author Kainaz Jussawalla chronicling her journey to find love and her ideal partner. The title gives a peek into Jussawalla's humorous writing style and devil-may-care attitude. 
The author's candid storytelling, sharp humour, and themes of body confidence are highlights of the book. She addresses relationships, bullying, and mental health in a lighthearted manner. Not for a moment does she take herself seriously, and that alone adds oodles of charm to the book. 
The plot follows Jussawalla's quest to find her ideal partner and true love. She has a string of failed relationships, suffers grief, and refuses to settle. The background keeps changing colours—Parsi's rituals, celebrations, customs, and the entry and exits of cousins and exes with ill-fated romantic histories form an interesting backdrop to the narrative. 
The amusing anecdotes and wild tales from her life, including her stint as a flight attendant and travels around the world, are outlined in Jussawalla's engaging and intimate writing style. 
The uplifting and spirited memoir shines with an underlying optimism. More so when the author learns to love herself along the way while desperately seeking her "Mr. Right." The bold streak of independence, mental resilience, and body confidence tints the account through and through. A part of me wanted a little more background on certain characters, but it's just me who sometimes gets too invested in the story and the lives of the characters. 
The book is witty, empowering, and deeply relatable. 
About the author 
'Who Wants to Marry Kainaz Juicewallah' is the author's debut memoir, published in 2022. She also wrote the book 'Coffee Days, Champagne Nights, and Other Secrets' in 2017.