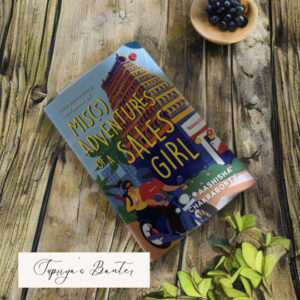 Mis(s) Adventures of a Salesgirl 
Author-Aashisha Chakraborty 
Publisher: Rupa Publications India Pvt Ltd; First Edition (5 September 2022); Rupa Publications India 
Language: English 
Paperback: ‎ 256 pages 
In the bustling world of sales, Aashisha Chakraborty takes readers on a wild ride through her humorous and relatable story. 
The book is a captivating and comedic exploration of the trials and tribulations faced by women in the corporate world. Chakraborty's writing style is fresh and engaging, effortlessly blending humour and wit with astute observations about the challenges of a salesperson. 
The novel follows the life of 25-year-old Enakshi Chatterji, a Bengali woman raised in Delhi. Her career goals land her in Chennai, an unknown territory. The rest of the story traces Ena's journey into the competitive, male-dominated corporate world as she jumps one hoop after another. 
Chakraborty's characters are vivid and multi-dimensional, each with distinct personalities and quirks. From the ambitious and determined protagonist to the eccentric coworkers and demanding clients, Chakraborty creates a cast of characters that readers can easily connect to and invest in. She underlines the constant presence of patriarchal beliefs, misogyny, unwarranted sexual advances, and male chauvinism in the everyday life of a working Indian woman. 
The "Mis(s)adventures of a Sales Girl" delves into various themes, such as the pressures of corporate life, the importance of perseverance, and the pursuit of personal and professional growth. 
It is an entertaining read that offers sharp observations into the mechanics and drive of the corporate world. 
Whether you're a sales professional looking for a relatable and witty read or simply someone who enjoys a well-crafted story with laugh-out-loud moments, "Mis(s)adventures of a Sales Girl" is a book that will not disappoint.