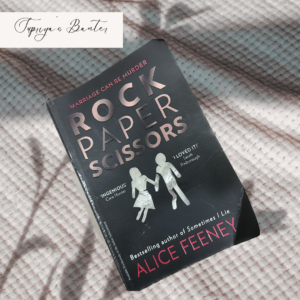 Rock Paper Scissors   
Author; Alice Feeney  
Publisher‏: ‎ HQ (31 August 2021)  
Language‏: ‎ English  
Paperback‏: ‎ 320 pages  
"Rock Paper Scissors" by Alice Feeney is a gripping thriller that keeps readers on the edge of their seats from beginning to end. The novel takes its title from the popular game of the same name, known for its simple yet strategic gameplay.  
Feeney weaves an intricate tale filled with suspense, secrets, and psychological twists that will leave readers guessing until the very last page.  
The story revolves around the lives of Adam and Amelia Wright, a married couple who seem to have it all – a beautiful home, successful careers, and a seemingly perfect life. However, beneath the surface lies a dark secret that threatens to unravel everything they have built.  
Feeney skillfully delves into the complexities of human relationships and the lengths one will go to protect their secrets. As the story unfolds, Adam and Amelia find themselves playing a dangerous game of deception and manipulation.  
Feeney creates an atmosphere of suspense and intrigue with her vivid language. The desolate Scottish Highlands, abandoned roads, and magnificent yet menacing converted chapel come alive on the pages.   
There are a million twists and turns. Cliff hangers and hooks at the end of each chapter make this book unputdownable. Even when you guess one twist, Feeney catches you off guard with another. At one point in the book, I had to turn back to previous chapters, to understand the tricks Feeney employed to fool me.   
Gripping and engaging! I am already looking forward to adding another Feeney novel to my TBR.   
About the author  
Alice Feeney is an acclaimed British author known for her compelling and suspenseful novels. Her previous works include "Sometimes I Lie" and "His & Hers," both of which have received critical acclaim for their gripping plots and well-developed characters.