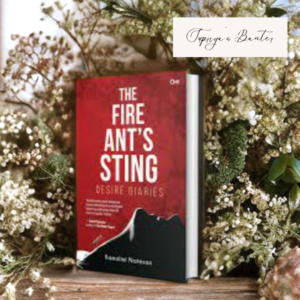 The Fire Ant's Sting: Desire Diaries  
Author- Kamalini Natesan  
Publishers- Om Books International 
Paperback/ Kindle  
Pages: ‎ 240 
Natesan explores the vagaries of the human mind in the face of temptation. She trails the journey of her protagonists into dark abysses as they chase luscious baits. Desire rages its many heads in many forms in the superbly crafted tales, and more often than not, it devours everything in sight.   
The twelve stories revolve around a central pivot of unrequited desires, dreams, and wants that push the characters on an unexpected life trajectory. Some stories analyse how the seed of lust takes root in one's soul, only to burgeon into a dense forest whose unfathomable secrets remain uncharted. 
Whether it is the limitless yearning of a lonely woman to feel desired, the journey of self-discovery of a young man hell-bent on helping a shy friend or the fantasies of a voyeuristic man who makes 'special' life choices to support his eccentricities, Natesan keeps a tight grip on her characters.  
Natesan's language is lyrical and poetic, and many times I stopped only to appreciate the excellent vocabulary and the sublime structure of her sentences. The narrative is sculpted well and reflects the undercurrent of intricate thought behind it. 
 One can almost hear the hum of the underlying refrains of lust, yearning, and passion in the stories. Wrapped in deceptive layers of greed, revenge, jealousy, and fear, the tales are different parts of the same song. 
At times, Natesan leaves a loose thread in the story that works in mysterious ways to keep the story alive in the reader's mind. 
The experience of delving deeper into the depth of such raw and primal human emotion was thoroughly satisfying. I especially liked how Natesan highlighted the fickleness of human behaviour. She conjectures how decisions based on desires could be rewarding on one side. But at other times, they can upend someone's life, often to an irremediable degree.  
Exuberant and evocative, these delicious stories will leave you asking for more. Pulsing with raw human emotions and throbbing bittersweet ache! 
Pulsing with raw human emotions and throbbing bittersweet ache!