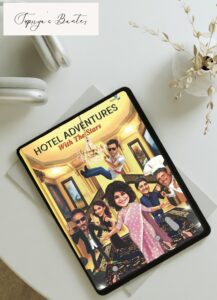 Hotel Adventures with the Stars 
Author- L. Aruna Dhir 
Publisher–Vishwakarma Publications 
Pages–236 pages 
Language–English 
Themes- Memoir, Humour 
After working as a media relations officer at the Australian High Commission, Dhir became a hotel PR strategist at some of Delhi's top-rated hotels. Her distinguished career gave her ample opportunities to rub shoulders with prominent personalities.  
Dhir's unique experiences adorned with endearing details of Delhi's iconic hotels are absolutely riveting. Who's who of the country, from socialites to tycoons to film stars, drift in and out of the chapters, and somewhere you get a feeling of watching a gala event unfold.  
The anecdotes cover a wide range. Some are downright funny, while others provide sharp insights. 
Imagine Bollywood baddies rising above their silver-screen images and popular perceptions. 
Picture a Bollywood Diva at the pinnacle of her career apologizing for something trivial or the grand debut of India's beloved captain as a chef. 
Dhir intertwines the magic of her formative years and the beauty of Doon Valley in the stories, tinting them with a nostalgic sheen that speaks to the 80s and 90s kids. The narrative touches upon peculiar circumstances and often tense situations a PR professional juggles.  
Though the book underscores the megastars' subtle idiosyncrasies, disguised dispositions and crowd-pleasing sensibilities, it has its heart in the right place. 
Bold strokes of Dhir's unique philosophy and perspective wrap up the tales, but not without providing enough fodder for thought. I especially enjoyed the chapters on Shabana Azmi, Sharmila Tagore, and Meera Nair. Dhir's poetic and verbose writing style suits the starry memoirs to a T. 
The book is divided into 27 sections, with each chapter focusing on a notable personality. The chapters can be read randomly and are independent of each other. I quite enjoyed relishing the book in small chunks. 
A delectable concoction! The redolence the tales bring from the literary, music, movies, sports, art, and political worlds is hard to miss. 
An entertaining, easy-breezy read, and as Master Storyteller, Mr. Bond sums it up, immensely readable.