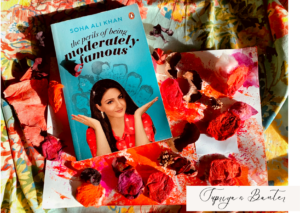 The Perils of Being Moderately Famous-by Soha Ali Khan  
Genre- Memoir 
Rating-3/5  
The book chronicles Soha's journey from being a modern-day princess to a Bollywood actress, a wife, and finally a mother. Her writing is like light-hearted banter. Easy, breezy read with tidbits thrown in from her various stages of life, touching upon her illustrious family and her famous lineage.  
I picked up the book only because I am a die-hard Bollywood buff (excluding 90's cinema out of the mix).   
Soha's self-deprecating humor—a by-product of her British education — is the book's USP. The deadpan delivery with a careful subtlety while talking about sensitive issues makes the book a delightful read.  
I particularly liked her chapters about her father, her Tagore connections, and her travels. A fast read, the chapters in the book seem more like a collection of weekly newspapers columns.   
Don't go expecting in-depth cinematic discussions or whimsical revelations. This book is nothing close to the frank and at-times dark account of the cinematic journey Naseeruddin shah offered in his memoir—And Then One Day. Or the refreshing candor and brutal honesty Late Rishi Kapoor presented in his autobiography titled Khullam Khulla.   
Soha avoids delving into anything remotely controversial about her family and friends—often, addressing her friends by a letter in their names. 
Though she spends many of her pages emphasizing how her struggles differ from the ordinary but are still genuine and twisted, the book has an underlying charm that makes it a pleasant read. 
 Verdict:
Only venture near if you are a Bollywood fan. Go with zero expectations, and I promise you won't be disappointed.  
 ****
Check out the review of other memoirs here:
Running with Scissors: A Memoir 
Unfinished: A Memoir by Priyanka Chopra Jonas
****
****
Read more about Soha Ali Khan.