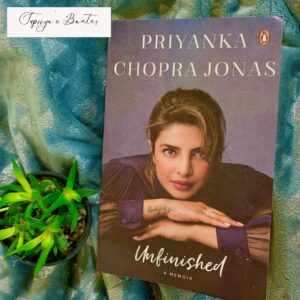 Unfinished: A Memoir 
Author- Priyanka Chopra Jonas 
Publisher‏: Penguin (February 9, 2021) 
Language‏: ‎ English 
Hardcover‏: ‎ 280 pages 
Rating-3/5 
Being a Bollywood and memoir junkie, I couldn't stay away from this. I wondered what Priyanka Chopra, now internationally acclaimed actor, singer, entrepreneur, UNICEF ambassador, and producer, would reveal that we, as Indians, don't already know. 
Her life has been intriguing, her Bollywood trajectory choc-a-bloc with sudden highs and exceptional lows. Enough has already been written about her public and personal life; even her humanitarian efforts have received a fair share of media scrutiny. I picked up this book hoping to discover the psyche, drive, and real person behind the public facade. But I am sorry to report that it fell short, and just like its contemporaries (mushrooming in the market twenty to a dozen), this memoir proved to be a letdown. 
Yet, not a total dud like the nepo king's autobiography; it has a few pluses in its favor. 
The initial chapters where the actor writes about her growing-up years, hostel life, and American sojourn are engaging, showcasing her vulnerability, rebelliousness, and reckless spirit. Her life during her parents' countless transfers, her teenage years spread across continents meandering through abandonment issues, racism, and bullying, are honest, open, and moving. But that's where it abruptly changes course. 
It gets tedious and repetitive as soon as we hit the timeline of the actor's return to India and subsequent wins in the Miss India and Miss World pageants. Maybe it's because after that period, not much of her life remained obscured from public knowledge, thanks to overzealous media. 
Most Indians know the trajectory of her Bollywood career, her rise to National award-winning actress, her stint as a singer, and her over-the-top grand wedding with Nick Jonas, an American singer. As there was nothing meaty to bite into, I flew through the rest of the book much faster than expected. Some stories, like the nameplate and tattoo stories, are the ones we have all heard countless times. 
The chapter, Grief, offered a welcome change, presenting one of those rare instances where Priyanka allows a glimpse into the inner machinery of her mind, letting her unsaid emotions, pain, and angst shine across. But then it goes downhill again, with the extravagant details of her opulent nuptials, her wedding preparation, and her lavish wardrobe. It seems like an abridged version of elaborate newspaper articles the Indian public was subjected to by the tabloids and media houses. 
My grouse with the book is that the actor plays it too safe. She steers clear of her turbulent love life, her fallout with the biggies, and her unceremonious exile from Bollywood. Though she hints at her brother's tumultuous teenage years because of her parents' absorption with her demanding career but never explores it further. Her brother's outlook about living in the shadows of a successful sibling and having the course of their life changed to accommodate her meteoric rise to fame and money would have made a fascinating introspection. 
A possible explanation for the controversy of 'plastic Chopra' is offered but seems superficial and unconvincing. Her mother's resilience, her father's unending, unconditional support, and her extended family's selfless involvement are portrayed as the key player in the actor's journey, reflecting her continual gratitude. The actor leaves a chance to spotlight her trait of overcoming obstacles and adaptability in the face of personal doubts, sexism, and adverse circumstances. So much so that it seems to be a tad overdone by the end. 
If I may say, the book is more of a marketing gimmick to stay in the public eye than an actual memoir, as it lacks depth, candor, and spontaneity, especially in the latter half. Perhaps, meant to portray Priyanka in a good light for her newfound western audience. It is more like an extended resume Priyanka seems to offer Hollywood sketching her career graph, struggles, innumerable wins, and bitter losses. 
The language is conversational and straightforward, like tuning into one of her interviews. 
The book works in places, but I don't know if that's a good enough reason to pick it up. 
A glossy, guarded, and airbrushed memoir! If that's what you prefer to call it… 
****
Check out the review of other memoirs here:
The Perils of Being Moderately Famous-by Soha Ali Khan  
Running with Scissors: A Memoir 
****
Read more about Priyanka Chopra.
A glossy, guarded, and airbrushed memoir
A marketing gimmick that works in places