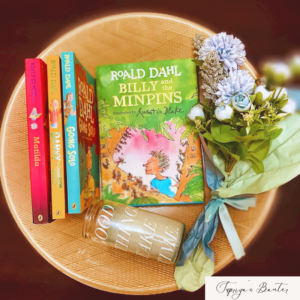 Billy and the Minpins
Author-Roald Dahl 
Illustrator- Quentin Blake 
Rating- 3.5/5 
Genre- fantasy, adventure 
Reviewer- V (9-year-old) 
Setting- Billy's's house/ The Forest of Sin 
Characters- Billy, Billy's mum, Minpins and Gruncher 
V reviews:
The book is about a boy named Billy who gets bored of being good. He sets out to the great big dark Forest of Sin against his mother's instructions. According to his mother—none come out of the forest, but many go in. The place is believed to be full of the most bloodthirsty, wild beasts in the world. 
In the forest, Billy gets chased by the Gruncher and meets the Minpins—tiny creatures the size of matchsticks who are terrified of the Gruncher. The rest of the story is about how Billy saves the Minpins and gets rewarded in return. 
My favorite character was Billy because of obvious reasons. He shows courage and a fiery spirit in the face of danger. 
I loved the action-packed sequence when Billy tricks the Gruncher with the help of Minpins. The parts where Minpins use birds as cars and taxis and where Swan becomes a personal private airplane for nighttime trips for Billy were amongst my favorite scenes. 
The tongue-twisting names of the monsters made me chuckle—hornswogglers, snozzwangers, Vernicious Knids, and especially the terrible blood-sucking, stonechuckling Spittler. 
Other hilarious quotes facts from the book: 
Humans are like strawberries and cream for the beasts. 
There is a red-hot fire in the monster's belly that roasts the food as it goes down—can you imagine how handy will it be to the people who hate cooking!
Mommy's verdict- 
I loved the visual imagery. Dahl's dense woods, the giant trees with menacing branches, the tiny Minpins, and the ravenous beasts hungry are as real as they come. 
There is a generous sprinkling of literary devices. Onomatopoeia, alliteration, anaphora, rib-tickling metaphors, and similes. Dahl's books work best if you want to touch upon these tools with your kids. 
I always find some kind of philosophy hidden in Dahl's children's books, and this book was no exception. The Gruncher can die only if the fire in his belly is put out—this says so much more to me than it would to a child. Don't you think so? 
A quote that I especially liked from the book – 
Sometimes mysteries are more intriguing than their explanations. 
Trivia- 
'Billy and the Minpins is Dahl's only children's book, not illustrated initially by Quentin Blake. Patrick Benson did it when it was first published. We, of course, read the newer version in which Blake was invited later to do the illustrations. 
This book is Dahl's final contribution to literature after an illustrious career.