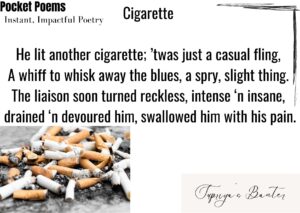 Cigarette
He lit another cigarette; 'twas just a casual fling
A whiff to whisk away the blues, a spry, slight thing
The liaison soon turned reckless, intense 'n insane
drained 'n devoured him, swallowed him with his pain.
#pocketpoems
#miniverses
#tinypoems
#poetrybullets
Picture Credit- Pawel Czerwinski/Unsplash
I wrote this micro verse for a prompt-based contest. The prompt was to weave a verse around 'cigarette.' This verse was chosen as one of the winners.