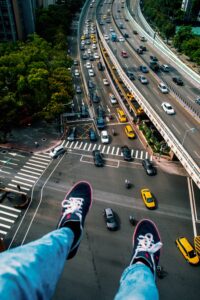 SALVAGED 
I stand on the edge of the rooftop 
And I jump. 
Down. 
Time slows, 
I'm hung in limbo. 
The wind whizzes past, 
Crooning symphonies of a life  
That once was. 
Sepia memories slither around, 
Cradling me, 
Strangling me, 
Silvery shards of broken dreams, 
Gnaw at my skin. 
Gnash at my bones. 
Wispy white whispers 
Whirl' n whisk, 
Close to my ears,  
Tinted with greys  
Of your afterthoughts  
'Wish I knew.' 
'I would've helped.' 
'She looked okay.' 
'Really, but why?' 
Dregs of my dwindled welkin, 
Crumbles of my cracked earth, 
Dribble. 
From my pocket, 
Plastering the pavement, 
Blurred, bare, broken, 
No longer hidden, 
I hit the sooty asphalt. 
My skull splits open. 
Ruby-red rivulet rushes out, 
Wailing with pain, 
Resent 'n rejection  
Rescind their reign. 
The slate-black sorrow, 
Spews me out, 
From the seat of its stomach,  
The smithereens still stuck, 
In the seam of my spine 
Purple- plum scars of yore,  
Pullulate, pall 'n proliferate,  
Penetrate my paper-thin skin, 
The cerulean sky around, 
Melts in the blues within, 
 Bronze brambles burgeon, 
Stifle, squelch, sedate  
My heart, 
The pain, the misery, 
The past plea… 
A pearly iridescent peace surrounds me, 
Letting me be, 
Finally, Free. 
I've been dead a long time, 
Death has salvaged me. 
 -by Supriya Bansal 
Author's note- 
Most suicides are related to mental illness, with depression being one of the most prominent risk factors. People with complex psychopathologic disorders are overwhelmed by their pain and see death as the only way out. Scars here refer to physical scars inflicted upon oneself as a coping technique and psychological scars that leave lasting changes in one's personality. 
 ****** 
Picture credit-Unsplash
This poem finds a place amidst works by immensely talented poets and artists in a well-acclaimed book by Indie Blue publishing house- Through The Looking Glass: Reflecting on Madness and Chaos Within.
The book is available on Amazon.com and pothi. Grab your copy here.   
Indian readers can order their copy here   
Read more about the book here.