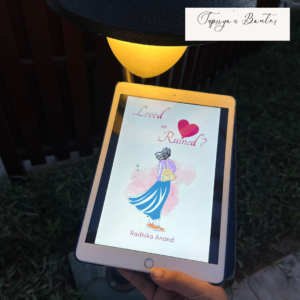 Love or Ruined  
Author: Radhika Anand 
Publisher‏: ‎ Paper Towns (March 17, 2023) 
Language‏: ‎ English 
Paperback/ Kindle‏: ‎ 150 pages 
It is a coming-of-age story where truth hits harder than people and circumstances. A tale of a young girl, Kridha, as she juggles the highs and lows of life and transitions from childhood innocence to emotional maturity and stability.  
Raised by a single mother after her father's premature death, who served in the Indian army, Kridha encounters many highs. With her mother by her side, she navigates the complexities of love and desire, only to face unexpected challenges. The fun, friendship, and romance whoosh out of the window as real life comes knocking in.  
If highs allow her to soar carefree, the incredible lows leave no stone unturned to crush the young girl time and again. But never the one to be bogged down by life or circumstances, Kridha marches on.  
The story moves from Pynsel, a small town, to the holiday spots, Kamera and Vaisha waterfalls, and each plays a significant role in the story.  
The characters' emotional arc is well explored; the main character, Kridha, stands out with her sensitive portrayal. Anand celebrates the spirit of a woman.  
The story of Kridha as she traverses many twists and turns, toils and travails, and is saddled with harrowing problems is well worth one's time.  
An easy read. It was heartening to see Kridha, a confused, lost teenager, evolve into a strong-willed, determined modern woman. Though the story is predictable at times, it is enjoyable. The language is simple and conversational and suits the narrative well. 
A medley of romance, drama, and emotions.