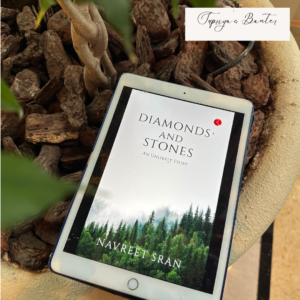 Diamonds and Stones: An Unlikely Story  
Author: Navreet Sran  
Language‏: ‎ English 
Publisher‏: ‎ Rupa Publications India  
It is a story of a young girl torn between her dreams, aspirations, and societal expectations. Her father, a shrewd businessman, has ensured the twins— Meera and her brother, are brought up according to their gender roles. Her mother's reverence for her husband is unmatched, and her world does not rise above household chores and ensuring that her children fit into societal-approved traditional gender norms.  
Meera tackles life by taking everything into her stride—from a dominant boss breathing down her neck to a gruelling yet monotonous work schedule and an elaborate matchmaking plan. However, an unexpected abduction on a business trip changes the trajectory of her story. What follows is a journey that Meera could never be prepared for.  
Sran builds tension, and the book becomes a page-turner from this point on. 
While highlighting the predicaments faced by the family, Sran evokes a sharp contrast between Meera's past and present and the differences between the poor and the privileged.  
The characters have depth and are well-etched. The vivid description of hills and the atmospheric setting elevate the narrative several notches and add to the reading experience.  
Superlative language, sublime imagery, and an understated elegant cover are applause worthy. The ending is cathartic and immensely satisfying.  
A gripping, fast-paced story with enough twists and turns to keep the readers glued to the pages. 
An engaging plot–relatable, not-so-predictable, and a little off-beat arc makes it indeed an unlikely story! 
Well worth a read.