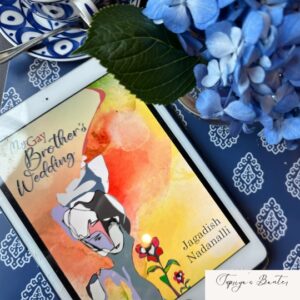 My Gay Brother's Wedding  
Author- Jagdish Nadanalli  
Language‏: ‎ English 
Publisher‏: ‎ Book Street Publications 
A hilarious yet touching account of a gay hero pegged at the center of a family drama.  
Abhi is under pressure to get married, but his secret sexual orientation as a gay man compels him to keep meeting hundreds of potential brides. A chance meeting with Varsha gives him a much-needed breather. They keep the façade of publicly courting each other while juggling their own problems. 
While a marriage with Abhi seems like an escape for Varsha, it brings its own set of problems for Abhi. The weight of the hidden truth intensifies, making Abhi question the charade and its implications. 
Abhi is torn between 'to come clean or not to come clean. As Abhi grapples with the decision, he realizes that maintaining the act is taking a toll on his mental and emotional well-being. The pressure to keep up appearances becomes increasingly unbearable, leading Abhi down a path of uncertainty and self-doubt.  
The plot has unexpected twists and is fast paced. A dash of Shakespearean riddles interspersed with a sublime portrayal of the spirit of a small town in Karnataka adds depth to the narrative. 
A captivating tale about the trials of fitting in and battling on amid emotional upheaval. Quirky, lighthearted, and fun.