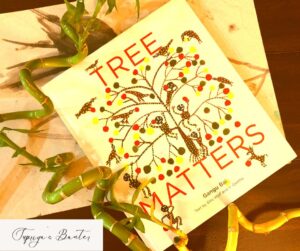 Tree Matters 
Authors-Gangu Bai, Gita Wolf, V. Geetha 
ISBN-978-93-83145-23-2 
PAGES -44 
PRINTING -Offset-printed 
AGE GROUP-12+ 
Themes-trees, nature, tribal life 
rating-4.5/5 
Some picture books are not meant for the little ones; they are meant for older children and for us, adults. 
Tree Matters is one such book—a fantastic and awe-worthy narrative by Gangu Bai, an indigenous Bhil. 
A member of tribes living in western and central India, Gangu Bai provides you a sneak peek into her community's lifestyle. The fact that she illustrates the book in the traditional style called mittichittra, or mud painting, is icing on the cake. 
The dot pattern illustrations paint a vivid and joyful picture of a world equally shared by humans, plants, and animals. A world where the jungle is worshipped and the Goddess of the jungle protects and provides for people. The enchanting folklore and vibrant art are like a masterclass in tribal wisdom. Mahua, toddy palm, neem, and mango trees find a special mention. Gangu Bai takes us to a world where the leaves, berries, and fruits are edible, but some could also be poisonous. And to discern that one needs the tribal wisdom passed from one generation to another over thousands of years. 
A lesson in sustainable living interspersed with keeping our eyes and ears open, and adapting to the natural world, is what we, the city folks, need. 
The treasure of a book is brimming with startling and super intriguing tales. There are chudels—the mischievous spirits hiding in some trees and tribal temples—built only by flag and a stone and cartloads of faith. God Kasumer makes an appearance, too; the fabled God is known for fulfilling wishes in exchange for clay horses, coconuts, and chicken offerings. 
The book celebrates nature, tribal indigenous communities, rituals, and connections with the forest and trees. 
Definitely recommended for older children. 
A captivating read indeed!