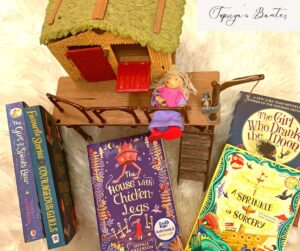 The House with Chicken Legs 
Author- Sophie Anderson 
Illustrator: Melissa Castrillón (cover) & Elisa Paganelli (illustrations) 
Publisher: Usborne 
Publication Date: May 2018 
ISBN: 9781474940665 
Age- 9 and above 
Theme- fantasy, folklore, adventure, 
Rating-4/5 
Shortlisted for the Blue Peter Book Awards/Shortlisted for the Waterstones Children's Book Prize/Shortlisted for the CILIP Carnegie Medal/Shortlisted for Children's Fiction Book of the Year at the British Book Awards/Shortlisted for the Branford Boase Award 
What do you know about Baba Yaga? From the Russian folklore I read in my childhood, I remember her being a wild ogre of a woman stealing, cooking, and eating her victims, usually children. She was always portrayed as a mean witch commanding animals and spirits, living in a forest in a house that spins on legs like a bird. The house itself, if I remember correctly, was merciless. A cage, essentially with just a trapdoor hidden under the floorboards. 
Anderson takes this premises and spins it on its head. We have Baba Yaga as the compassionate grandmother who guides the dead to their afterlife. Instead of cooking children, she rustles up her signature delicacies for the dead—a revitalizing grub allowing them enough energy to cross over and not fade away in oblivion. Not only that, Baba plays music for the dead, listens to their life stories, and gently guides them to the gates. 
Anderson pits this gentle Baba against Marinka, her twelve-year-old granddaughter, and arms the girl with a fiery spirit and a defiant temperament. Marinka is a perfect embodiment of someone at the cusp of transitioning into adulthood. She detests the idea of carrying forward her family legacy and following in the footsteps of her ancestors. Her rebellion and yearning to have 'normal family' and 'normal friends' unlock the door to a dangerous and turbulent world peppered with lies and deceit. 
Marinka is thrown in a tumble of disarray and tumult with only her pet jackdaw and a lamb for company. 
The chicken leg house totes the readers through dynamic, ever-shifting landscapes—polar regions with bitterly icy winds and pummelling temperatures, harsh scorching deserts with sprawling sand dunes, bustling marketplaces, and sandy beaches with sublime sunsets. 
Anderson takes a leaf out of Baba Yaga and chicken leg Slavic myth, weaving a magical tale. A little grim, yet thoroughly enchanting. The young readers jump hoops with Marinka, unraveling twists and turns. And, just like her, mid-way through the journey, they realize the uncertainties of life—that people, things, and circumstances may appear different from what they actually are. 
It takes serious writing chops to simplify and incorporate complex concepts of grief, death, and loss in fiction meant for middle graders. Anderson finishes it with elan. 
The gorgeous cover by Melissa Castrillon-a foiled tapestry of trees flanking a house with chicken legs bordered by a fence of bone and skull adds to the lure and intrigue. The black and white full-page illustrations sprinkle just the right bit of magic. 
It's a coming-of-age story, with age-old conflicts, critical choices, and self-belief entrenched in its core. 
Anderson's wonderfully flawed characters in a bittersweet world make the right ingredients for a spellbinding adventure. It is a reminder that the universe will rearrange itself for you only if you are bold enough to ask for it. Isn't that truly a magical concept to pass on to your middle-grader? 
And if you are someone like me who is a sucker for magic and fantasy, this may be just the book you are looking for. Even if you aren't interested in middle-grade fiction, I hope this recommendation may lure you in. As someone said, there are no downsides to having a little sparkle in your life.