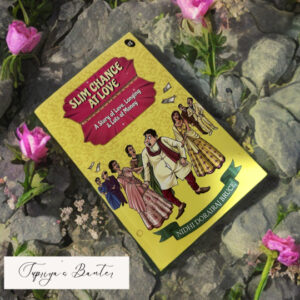 Slim Chance At Love  
Author- Nidhi Dorairaj Bruce 
Publisher: Srishti Publishers & Distributors 
Paperback: ‎ 176 pages 
'Slim Chance at Love' is a lighthearted and humorous novel that offers a glimpse into the lives of India's ultra-rich elite.  
The protagonist Sooraj Sanghani is the heir to a billionaire family struggling with his weight on the eve of his sister's lavish wedding. His troubles escalate when his controlling mother pressures him to shed kilos asap. Sooraj, however, has his plate full already; he is struggling with his love life too. His unexpressed love for his childhood best friend Nivriti, and the fear of losing her, gnaws at him. The book takes readers on a ride with Sooraj as he trudges through innumerable ups and downs, bumbling through parental pressure, weight woes, and societal expectations.  
The book highlights the quirks of the moneyed through striking descriptions of extravagant weddings, parties, designer shopping sprees, and more. Despite his wealth, Sooraj is an endearing and down-to-earth character. His struggles with weight, relationships, and wanting to build his identity are realistic and relatable. While the romance angle is not strongly developed, Bruce focuses on Sooraj's growth and self-acceptance, thus granting him a satisfying character arc.  
The satirical narrative leaves no doubts about the real-life parallels. Bruce puts the eccentricities and pretensions of the ultra-rich in India under the spotlight.  
The writing style is breezy and enjoyable.  
Recommended for readers looking for a light, fun, and fast-paced read. The characters tinted with shades from real-life members of India's richest family make it all the more amusing and entertaining.