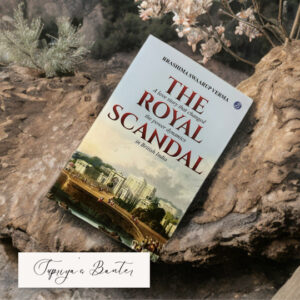 The Royal Scandal  
Author-Rrashima Verma  
Paperback//Kindle  
Publisher: Srishti Publishers & Distributors  
Paperback: ‎ 264 pages  
The Royal Scandal is a true account of a love affair between a Hyderabadi princess and an East India Company officer amid intense war and politics. Set in the backdrop of 18th-century India, the book delves into the complexities of colonial rule and the clash of cultures. Verma brings to life the challenges the star-crossed lovers face, accentuating the power dynamics and societal pressures that shape their fate.  
Verma's characters are well-developed and multi-dimensional. Readers find themselves invested in the struggles and triumphs of the protagonists. The raw vulnerability and resilience displayed by the protagonists are brought to the forefront without putting it in words. She delves deeper into the characters and setting while exploring universal themes such as love, loss, and sacrifice. 
Verma's writing style is captivating and engaging. Her use of descriptive language and vivid imagery transports readers into the world of royalty and intrigue. Verma's dexterity in capturing the opulence of grandiose palaces and magnificent forts of the 18th-century era is commendable. 
The author's dedication to historical accuracy is clear in the intricate details woven throughout the narrative, allowing readers to immerse themselves in the rich tapestry of the era. This meticulous research enhances the story's authenticity and adds depth and credibility to the characters and their experiences.  
Overall, I found "The Royal Scandal" a thoroughly enjoyable read. Verma's masterful storytelling kept me engaged from beginning to end.  
A must-read for fans of history and romance.