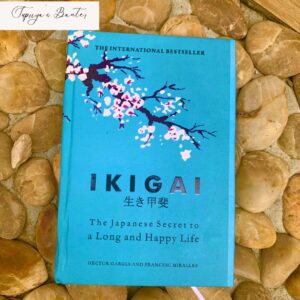 Ikigai: The Japanese Secret to a Long and Happy Life 
Author- Hector Garcia, Francesc Miralles 
Publisher‏: Penguin Life (29 August 2017) 
Language‏: ‎ English 
Hardcover‏: ‎ 208 pages 
Themes- 
Genre- Nonfiction, self-help 
Rating-4/5 
What is your purpose in life? 
Do you want to spend the rest of your life in peace, harmony, and happiness? Do you think retiring at a certain age would guarantee a balm to your frayed nerves? 
If any existential questions trouble you in that dark hour of the night, then, my dear friends, this is the book you are looking for! 
Somewhere in the book, the author says– we are each capable of doing good or cause harm, but what really makes a difference is what we choose to do. The attitude towards problems, regrets, and resentment is what really makes a difference. 
The book charts a study done on the residents of a small village in Japan, Okinawa, home to the largest population of centenarians in the world, free of significant health scares and blessed with active bodies and minds. 
The fact that resonated with me is the theory of never calling quits from work. Since reaching my forties, I have been dreaming of retirement; this book put me in the right place. The book dwells on the Japanese philosophy of minimalism, be it food, stress, or materialism. 
The authors touch upon new age therapies like—Logo-therapy, and Morita Therapy, explaining them with comprehensive case studies. Yoga, Japanese exercises, and meditation are spotlighted for expanding overall resilience and antifragility. The book concludes with a ten-point compressed rule of ikigai. 
Certain inherent Japanese philosophies from the book have charted their course in the global vocabulary and attained the status of buzzwords for healthy lifestyles. Let's look at a few of those: 
Ikigai 
A Japanese word, it means—a reason for one's existence. The French might call it "raison d'être." The authors sum up the essence of ikigai in discovering something one loves to do and is reasonably good at, something the world needs and will pay for. 
Blue Zones 
It is a term for regions where people live longer lives, often reaching up to age 90 and even age 100 and beyond. The authors refer to 5 Blue Zones worldwide and allude to the secrets of longevity. 
Wabi-Sabi 
It is a philosophy about finding beauty in imperfect, flawed, and commonly believed broken objects. The sentiment stems from accepting transience and being one with nature. 
Some quotes from the book- 
Walk slowly, and you'll go far. 
Life is not a problem to be solved. Just remember to have something that keeps you busy doing what you love while being surrounded by the people who love you. 
We're all going to die. Some people are scared of dying. Never be afraid to die. Because you're born to die. 
The happiest people are not the ones who achieve the most. They are the ones who spend more time than others in a state of flow. 
Metabolism slows down 90 percent after 30 minutes of sitting. 
It's one of those easy-to-read, though-provoking self-help books that motivates one to look beyond the superficial and equip insights and inspiration. 
****
 About the authors :
Hector Gracia, born in Spain, is an author and an aspiring philosopher. He has been living in Japan for 18 years. He worked as a software engineer in Switzerland before moving to Japan. His most well-known books are Ikigai, A Geek in Japan, and Ichigo Ichie. 
Francesc Miralles, also born in Spain, is an award-winning author of fiction, self-help, and inspirational books. He studied journalism, English literature, and German and worked as an editor, translator, ghostwriter, and musician. He is well-known for his book Ikigai and Love in Lowercase. 
Read more about them here: