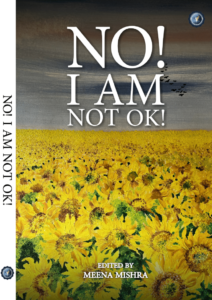 I am an inky abyss—a tangle of twisting trails open-and- shut before my eyes,
Cottony dawns draw nigh, bottomless nights slip by, the nightmare never dies,
Magenta-maroon scars nest under my sleeves—dregs of death that never came,
A game of hide 'n seek—guilt, regret 'n shame—different names—all the same.
–an excerpt from my poem-Lackluster hues.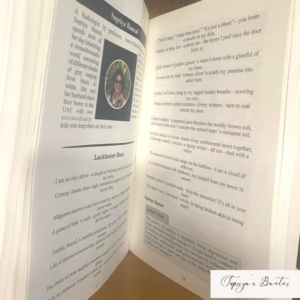 More about this book:
No, I am not ok! 
Mental wellness is important at every juncture, be it childhood, adolescence or adulthood. People who struggle with mental health issues behind closed doors need the support of the society, friends and family.
'No, I am not Okay' is one such venture conceptualised by the erudite scholar Meena Mishra.
I am proud to be associated with such a special project as an expert writer. Thanks a ton impish publishing house for this wonderful opportunity.
As Ms. Mishra says, the project has some unique features-
* The experts, editors, and writers address the issue under one roof. Even an accomplished psychiatrist with years of experience shares space with the Impish Lass Writers.
* Coloured pictorial introduction of the writers proceeds the write-ups.
* The cover page is a tribute to the legend Vincent Van Gogh, an artist who struggled with mental illness throughout his life.
*As a wonderful initiative to support a small publishing house, the book is listed only on the impish lass website and can be purchased from there!
https://theimpishlass.com/books/no-i-am-not-ok/
Would look forward to your feedback on this beautiful book.