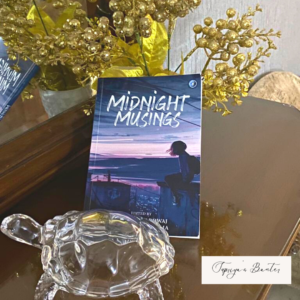 Amidst the still, silent sky, suddenly a gush of glitter appears,
'n through a rent in the sky, the empyrean love spreads 'n smears.
I fasten my wishes' n wants on the dash of sheen 'n sparkle,
Tuck them into the shimmery folds, pining for a miracle.
– an excerpt from my poem -Shooting Star. 
Super stoked to be associated with The Impish Lass Publishing House.
My poem 'Shooting Star' finds a place here with other wonderful poems and stories!
More about this book-
"Writing is the process of letting the thoughts flow through your fingers" At some point or the other, in life, we yearn for a soul to listen to ours. We wish to express ourselves without inhibitions and dive into the sea of peace and tranquility! MIDNIGHT MUSINGS aims at the same and will surely touch your heart and turn you around so that you may be able to see the unseen and realize the magical, motivational and thought-provoking side of life.
You can buy your copies here–