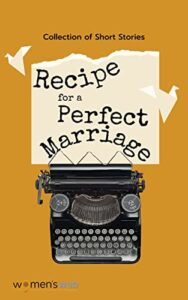 However, the onus of the final decision rested with the two matriarchs—Mihir's Bua Ji and her grandmother. If they agreed, then the rest of the kin had no alternative but to fall in line.
The chandeliers of bright red Gulmohar swayed with the breath of wind, splattering showers of blooms on the procession of cars that stopped outside her house. "Yeah, let's get cracking with the grand Indian welcome of the boy's side. All that is remaining now is the vermillion on the forehead, aarti, and a garland." She muttered, flouncing inside. –an excerpt from my story –Recipe For A Perfect Marriage 
The book is titled-Recipe for a Perfect Marriage, as does my story. And I am mighty chuffed about it.
The protagonist of my story, Vishakha, even makes it to the opening lines of the elegant, eloquent foreword Sandhya Renukamba pens for the book.
A compilation of 25 fantastic stories from 22 authors covering the theme of women and the choices they make in relationships, especially in marriage, as they stake their claim to their own lives.
You don't want to miss this one…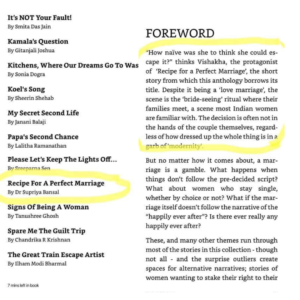 Buy your copy:
and here overseas–
It is also free to read on Kindle Unlimited. Don't forget to leave a few lines on Amazon and Goodreads.
You can also check out the previous eBooks from the women's web here–
Look forward to your review and feedback!