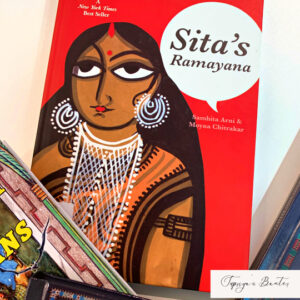 Sita's Ramayana 
Hardcover, Graphic novel 
Author- Samhita Arni 
Illustrator- Moyna Chitrakar 
Publisher‏: ‎ Groundwood Books 
Language‏: ‎ English 
Hardcover‏: ‎ 152 pages 
Reading age‏: ‎ 10 years and up 
Rating-4.2/5
A 2012 USBBY Outstanding International Book  
An ALA Notable Children's Book, 2012 
A Texas Library Association 2012 Maverick Graphic Novel (Grades 9-12)  
A South Asia Book Award 2012 Honor Book 
This is one of those graphic novels where the artwork was created before it was written. Patua Artist- Moyna Chitrakar, from Bengal in east India, adapted her scroll–version handiwork to a fast-paced graphic avatar, and Arni gave it a voice. One glimpse and you are convinced of the artist's conviction and the author's faith in this crisp retelling of the Ramayana from the female protagonist's perspective.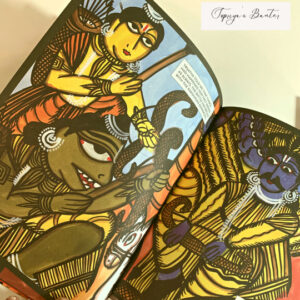 The epic legend here commences from the middle⁠—the juncture where the demoness glossed over as a beautiful seductress invades the lives of the exiled princes, Rama and Lakshmana, and Rama's bride, princess Sita. What follows is the familiar tale of sorcery, kidnapping, deceit, and ego clashes. 
The narrative ventures beyond the graphic recital; it interweaves the female viewpoint, Sita's somber calm and sheer perseverance with the folk painting and oral traditions of storytelling and fashions a modern classic. A web in the opening pages, mapping the personalities and their relationship, is for the readers to enlighten themselves with the stellar cast. 
The narrative treads a tightrope; it stays loyal to the Valmiki Ramayana while embodying the local color from Chandrabati Ramayana. Chandrabati, a female poet who lived in the 16th century, was in turn inspired by the ballads ordinary women sang while they worked. No wonder the narrative oozes female fortitude, unending suffering, and calm defiance like none other in this category. 
The additional characters like Mahi Ravana and goddess Chandi make appearances, and Arni shifts the focus from the resolute Rama to the brooding, wronged princess who battles society, suspicion, and adversity at every step. Moyna's folk art captures Sita's sentiments as the princess tumbles through a life flecked with war, violence, death, and betrayal. 
The narrative, braced with intense visuals, advances rapidly but not without compelling one to reflect on the repercussions of others' actions on Sita. A complex, tangled perspective told in an age-appropriate manner. 
A remarkable ode to women! A must-read! 
Heartwarming, poignant, vibrant