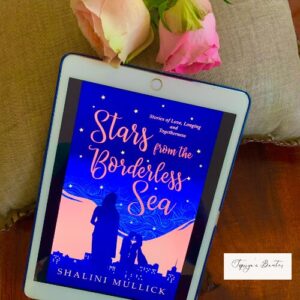 Stars from the Borderless Sea 
Author- Dr. Shalini Mallick 
Genre- Romantic Fiction/Literary Fiction
What an apt name for a novella enclosing love stories that transcend the borders of place, time, and age. 
These narratives are not your usual run-of-the-mill boy-meet-girl accounts; these are mini sagas woven with tactile sentiments of pain, yearning, and heartbreak. Through these stories, Dr. Mallick highlights a rare shade of love—a hue that is uncomplicated and unsullied. One that doesn't translate into possession and control but blossoms in acceptance of the inevitable separation and antagonistic circumstances. 
Her stories underscore an almost obstinate redamancy that keeps the protagonists going against all odds. The stories are simple at a superficial glance. Yet, the underdrift web of complex and intricate emotions is hard to miss. 
Connected with a fragile twine of lost love, the characters ravel in the redolence of a wistful yearning. Something that doesn't get dimmed even when the years pile up. 
The stories open with Rumi's quotes—a few words to define the chaos, tumult, and the truth entangling the protagonists. What follows is an abyss and a whirlpool that these characters call life. The redolence of Rumi's words seeps into the stories and lingers into Dr. Mallick's lyrical writing style. 
Sayonee (soulmate)—is a story of an elderly widow, Geetika, and an officer in the Indian army, Shekhar. These star-crossed lovers are bound by intense ties that transcend borders of societal rights and wrongs. Their relentless, soulful passion brings them comfort even when they are in dire straits and left grasping at straws of their once innocent lives. 
Some of the best crafted moments are the college scenes where the duo fall for each other amidst countless cups of milky chai. Dr. Mallick's melodious writing throbbing with a tingle of first love makes those pieces vivid and alive. 
Humsafar (companion)—is a slice of the knotted lives of Rachna, a pediatrician, her mentor, Venkat, and her businessman husband, Rajat. While they have their personal demons and private hell to cope with, they remain fastened by love, intimacy, and passion. They are flawed yet realistic. In Humsafar, Dr. Mullick carves a mature, sensitive yet convoluted love story. 
Humraaz (confidante)—tracks the tragic life of Sanjay and Mahima, stuck in despondent love-less marriages. Finding solace in each other's arms, they relinquish their anguish and despondency, and their forgotten dreams burgeon in their mellow, tender relationship. So much so that they unlace the burdens weighing them down and sprout wings to chart the expansive skies spurred by their mute, intimate companionship. 
Pick it up to savor the fragile, forlorn love stories that swathe you like a fresh breath of air and leave you with a gentle smile. It's not something that has not been said before, but the charm lies in how the stories are spun and delicately handled.