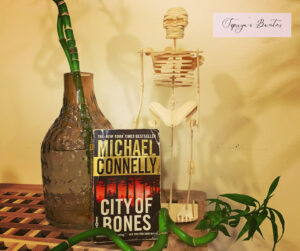 City of Bones 
Michael Connelly 
Thriller, Crime fiction 
Rating-3.5/5 
A fast-paced thriller with a generous helping of police procedures, hierarchical pressures, and administrative red tape. 
This book is the eighth in the series by Connelly featuring Los Angeles detective Hieronymus Harry Bosch. 
The book kicks off with the discovery of the bones of a twelve-year-old runaway in a shallow grave. Buried almost twenty years ago, the boy and his bones trouble Harry on a much deeper level. The cop rummages around for clues to stitch the cold case together. 
I cannot speak for other people, but I found Harry's conversation with the anthropologist extremely fascinating. The way the victim's bones flesh out the character, the life story, harrowing circumstances of twelve-year-old Arthur Delacroix make for an engrossing read. 
The body count mounts up as Harry and his partner grope in the dark for clues. The red herrings add to the thrill. Connelly ties the victim and the cop, Harry, with multiple similarities to explain the profound emotional connection. The victim's abusive father, reclusive sister, and apathetic mother add layers to the narrative. 
There are many more positives that make the book an easy-breezy page-turner. But there are many negatives and plot holes too. Shifting suspicions, too many coincidences rob the realistic feel of the story. Loose threads that needed to be tied even though this book is one part in the series leave the readers that aren't yet hooked a bit fuddled. Harry's romantic involvement with the rookie officer and its abrupt end leaves a gaping plot hole. As a reader, I kept looking for closure because the way it is presented in the chain of events made it seem like an inevitable chunk of the story, but the way it is brushed away with no consequences left me feeling a bit cheated. 
Harry's torment is well graphed, and readers can resonate with his torment even when this is the first book they are reading (as was the case with me). 
The climax seemed a little too simplified; I felt a little let down. 
It was as if I went around the town looking for clues, not realizing that it was buried in my backyard all the while. Instead of leaving me awestruck, it came across as a bit of a dampener. That the end was rushed didn't help matters much. 
I wanted the climax to dazzle me, as the build-up was terrific—the fact that it didn't; made me a little bitter, as it promised such a great deal more. 
Connelly peels the layers off and gives you a peek into Harry's tortured soul and his brilliant mind. I do think I am hooked. 
I would definitely look out for Harry Bosch's books, but maybe not right away.