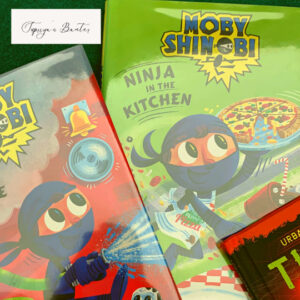 Ninja in the Kitchen (Moby Shinobi: Scholastic Reader) 
Author/Illustrator-Luke Flowers 
Publisher‏: Scholastic 
Language‏: ‎ English 
Paperback‏: ‎ 32 pages 
Grade level‏: Preschool—1 
Rating-3.5/5 
Pick up this one if you have a beginner reader at home who prefers action-packed books with a particular interest in all matters ninja. The little ninja, Mobi Shinobi, is clueless yet helpful and kind. Any parent worth their salt would tell you it is a lethal combination. Moby is like his targeted readers⁠—wrecking everything in their zeal to be extra willing. 
This book details Mobi's capers in a Papa Peppy Pizzeria. The owner is short-staffed and desperate enough to hire sword-wielding Moby to twist, toss and swish the dough and slice and flip the pizza. 
Little does he imagine the wreckage he would end up with! 
Needless to say, in the following pages, we watch pizza dough soaring overhead, tables being sliced, and customers receiving their orders plastered to their faces. 
The younger ones would find Mobi's antics hilarious. 
The Colorful digital artwork with an animation aesthetic is lively and holds readers' interest. 
Having said that, I still have a reservation⁠—the simple plot may not entice the kids to pick it up again. It's like one of those slap-stick comic TV episodes you enjoy once and never return. 
Recommended for early readers with a wild side.