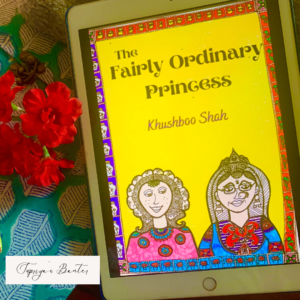 The Fairly Ordinary Princess 
Author- Khushboo Shah 
Format-Kindle 
Language ‏ : ‎ English 
Theme- children's literature/ fantasy 
What would happen if, instead of falling into the infamous rabbit hole, Alice fell into a book? What if, instead of belonging to a wealthy English family, this preteen belonged to an Indian aristocratic family with stringent rules and procedures? Would her adventures be any less fascinating? 
Shah's debut book, The Fairly Ordinary Princess, addresses all these questions with stylish aplomb. Princess Nirzari, the twelve-year-old, book-loving princess, falls into a book and finds herself lost in its pages. The peculiar world is brimming with odd creatures, eccentric characters, and unique personalities.
Princess Nirzari crosses paths with weird, wonderful people and animals that populate the book. There is a strategic rainbow seller, a book-loving, sagacious granny, a spin-a-yarn spider, a shape-shifting shadow queen and whatnot. Imagine an under-appreciated prepubescent boy as a villain, kidnapping princesses for their pearly tears, dark hair and pink lips with an overbearing, pushy mother.
Shah's imagination takes wings and soars into uncharted lands. The readers tag along, least expecting the whimsical charm and pockets of profound wisdom carefully tucked along the spine. 
This strange beginning leads to progressively baffling events as Nirzari hunts her way out of the book with a cast of eccentric accomplices. The extravagant and incredible characters range from the witch-like soothsayer Sayani to the elderly perspective-lacking monkey, Mustafa. 
The princess realizes the hidden truths about her family and life as she traverses the length and breadth of the book. The climax, steeped in magical realism, is full of insight and wisdom without being preachy. 
Simple yet impressive illustrations add extra zing to the narrative. The eccentric poetic verses by the pet parrot, Jawab-e-hair, that seem whimsical at first hide a depth of meaning.
Shah's witty wordplay and humour dust the book with a magical sheen. I especially found the thickening powder that can thicken everything from soups and gravies to friendships, confidence, truths, doubts, and suspense—absolutely fascinating. A peek into the princess mother's room of dreams with twice sealed-over dreams said a lot without saying much. 
The delightful book has several quotes that compel even an adult reader to think and ponder. A few of my favourite ones are— 
"Some stories don't progress if we don't push them." 
"It is never about stating facts. It is the tone. And ordinary is a relative term." 
"It's better to see a change in others than in ourselves." 
"I guess we change when we turn a new page." 
"When you don't find an answer outside, you must look within." 
"Dreams have no compulsion to coordinate with your opinions about yourself." 
There are so many more. The beauty of this charming narrative lies in the fact that it can be interpreted in many ways. It can appeal to different readers in different ways. It is entertaining to pick out the tiny details hidden in the book and explore its greater implication. 
Though middle graders may need parental help navigating and making sense of the wild adventures and random events, they'd end up feeling enriched and enlightened after the thrilling ride.  
This contemporary fairy tale, full of wit, charisma, and magic, is not to be missed.