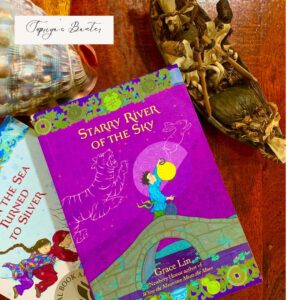 Starry River of the Sky 
Author- Grace Lin 
Publisher‏: Little, Brown Book for Young Readers; First Edition (October 2, 2012) 
Language‏: ‎ English 
Hardcover‏: ‎ 304 pages 
Reading age‏: ‎ 8 – 12 years 
Theme- folklore, fiction, fantasy, adventure 
Rating-4.3/5 
The moon is missing, and the sky is wailing every night, sobbing and moaning loud enough to not allow Rendi, a runaway youth, not get any sleep at night. Wonders of wonders, no one other than Rendi seems to regard either the missing moon or the misery of the clear night sky bereft of its moon and all the stars. 
Rendi's days are crammed with unending chores at the inn in the village of the clear sky owned by peculiar Master Chow. Selfish, insolent, and bad-tempered, Rendi despises the poorly populated townlet, innkeeper's incessant arguments with his neighbor Widow Yan, his daughter Peiyi, and awkward and distracted resident Mr. Shan. 
The arrival of graceful and enchanting Madame Chang shakes things up, and Grace Lin's trademark pattern of story within a story format ensues. 
Lin tethers the characters, molding one link at a time, sealing them with dollops of traditional folklore, fantasy, and Chinese tales. Of course, like the preceding novel—The Mountain Meets the Moon, everything ties up in the end, unveiling the masked twines holding the many stories together. The details that seem inconsequential initially weld together to devise the big picture. 
The rich cultural context and charming, vibrant illustrations redolent of Chinese paintings feature the critical incidents and themes, stressing the understated splendor of the overall design. 
The narrative concludes with Rendi transforming into an earnest youth who learns the significance of home, harmony, and forgiveness. 
Though not as exquisite as volume 1, Starry River of the Sky is engaging, enthralling, and enchanting. Few shared characters—Magistrate tiger, the moon, mountain, and a learned man, shape a connection between the two volumes, keeping the followers delighted. A new set of intriguing sketches like a three-legged toad, nicknamed rabbit by Mr. Shan, a gigantic toad with a bellyache, a half-moon well, and snail gardens, enhance the appeal of this volume. And that is one of the reasons why it works remarkably as a standalone book, too, not demanding the readers to have prior knowledge of the setting or characters. 
Dazzling, fascinating, and thoroughly entertaining! Recommended for all fantasy and folklore fans! 
***
The review of other books by Grace Lin:
Where the Mountain meets the Moon
***
About the author- 
Grace Lin is the award-winning author and illustrator of Where the Mountain Meets the Moon, The Year of the Dog, The Year of the Rat, Dumpling Days, and Ling & Ting, as well as picture books such as The Ugly Vegetables and Dim Sum for Everyone! 
Grace is a Rhode Island School of Design graduate and lives in Massachusetts. 
Read more about Grace Lin.