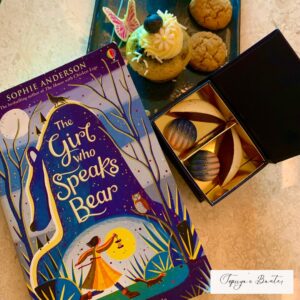 The Girl Who Speaks Bear 
Author- Sophie Anderson 
Illustrator- Kathrin Honesta 
Publisher‏: Usborne Publishing Ltd (5 September 2019) 
Language‏: ‎ English 
Paperback‏: ‎ 416 pages 
Reading age‏: ‎ 9 – 12 years 
Theme- fantasy, folklore, fiction 
Shortlisted for CILIP Carnegie Medal 2021 | Longlisted for the UKLA Book Awards 2021 
Rating-4.4/5 
Twelve-year-old Yanka is regarded as a big girl, so much so that she is labeled "Yanka the Bear," as she towers over most children her age and even the other grown-ups. Living with her foster mother, Mamochka, who found her outside a bear cave when she was just a baby, Yanka helps around her small village (comprising a few hundred residents), all thanks to her size, strength, and stamina. Mamochka's affection, her friend Sasha's endearing friendship, and her pet weasel Mouse trap's company are comforting, yet in the hearts of hearts, Yanka is glum and forlorn. She is distressed about her fast-growing body and inability to fit into ski shoes and play with children her age. Not to mention her longing for her original parents and the female bear whose cave she had possibly inhabited. She cannot brush away the intense draw of the woodland and the feeling of not fitting in amongst the village crowd. 
She leaves home after the winter festival, failing to come to terms with the sudden transformation of her legs into those of a bear. Lugging the skirt sewn by her foster mother, incorporating the forest folklore, Yanka wanders to the forbidden roads, her head full of those fabled, unbelievable tales. 
The forest swallows her, and she is gobsmacked by her newfound abilities and novel associations and rediscovers the spirit and passion in her old friendships. What follows is a whirlwind of riveting trysts with the Yagas, the infamous house on chicken legs, a pack of fearsome wolves, and even an action-packed battle with the fire dragon. 
In the process, Yanka forges attachments with her past and recognizes her hidden connection with all things bear. 
Anderson spins a tale of magic, adventure, friendship, and self-realization, bedecking it with sparkles of folklore and fantasy. A reference to Anderson's previous book—The House with Chicken Legs, promises the readers who have read the last book a foundation and familiarity. 
The perils, the danger, and the action sequences captivate young readers. The characters drafted in a modern style embodying traditional folk tales come together to make this book almost impossible to put down. 
A charming book! A must-read for all fantasy lovers! 
****
Read the review of other books by Sophie Anderson here:
****
About the author:
Sophie Anderson was born in Swansea, and now lives in the Lake District with her family. Her writing is most often inspired by folk and fairy stories, especially the Slavic tales her Prussian grandmother told her when she was young.
Read more about Sophie Anderson.
A dazzling shower of magic, adventure, fantasy, and folklore
Yanka, the bear, steals your heart!