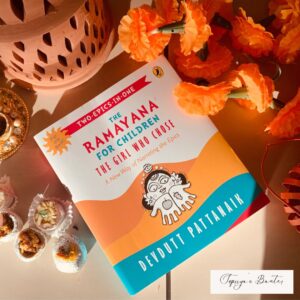 The Girl Who Chose: A New Way of Narrating the Ramayana 
Author- Devdutt Pattanaik 
Publisher‏: Puffin (January 1, 2013) 
Language‏: ‎ English 
Theme- mythology, folklore 
Rating-4/5 
Ramayana has been retold enough times, and one, from Sita's perspective, has been a particular favorite amongst the creators and readers. After cruising through many such adaptations, even in graphic narrative setup, I wondered what novel and fresh air Pattanaik could offer in his illustrated middle-grade fiction. The book pleasantly surprised me. 
Simplified, condensed, and diluted to the target reader group, this rendition is loosely based on Sita Charitam (Sita's story), reminding the reader of the choices and consequences of Sita and her acceptance of all the unforeseen, unfavorable circumstances with grace and poise. 
The basic framework of the book is the five decisions made by Sita right from the time she chooses to follow her partner, Rama, to the forest till the time the epic comes to a tragic culmination. Pattanaik develops the narrative by underscoring the impact of Sita's decision to shift the course of the story. 
'You are bound by rules, but not I. I am free to choose.'— Sita tells Rama. 
And this is the pivotal cord that wraps the readers to this easy-to-read, engrossing book. Even after having a fair idea of the plot, you are piqued enough to turn the pages to explore Sita's next choice. As a reader, you can't help but marvel at the–what-ifs! 
The black and white line illustrations appeal and break the narrative into delightful chunks. The lavishly peppered footnotes wrap present intrinsic and relatively unknown facets about the supporting characters, and related anecdotes prod further reading. Every page oozes oodles of details and hints for the inquisitive reader and would serve as an apt beginner set to trigger curiosity in mythology. 
The short, engaging narrative has the charisma of bringing back the nostalgia for storytelling sessions you could have attended in your childhood. The series has just the perfect elements to stand in for those sessions for the next generation. 
A modernized recital of Ramayana stresses the interplay of choices, conventions, and consequences. 
Few lines from the book are worth pondering- 
Humans make choices. Humans can also help. Thus, human society is all about choices and rules. We can choose to help or choose not to. All choices have consequences. The Ramayana thus shows that it is not easy to choose, just as it can be very difficult to follow the rules. 
****
Read the review of other books by Devdutt Pattanaik:
The Girl Who Chose: A New Way of Narrating the Ramayana
The Boys Who Fought: A New Way of Narrating the Epics
Pashu: Animal Tales from Hindu Mythology
****
About the author- 
Devdutt Pattanaik is a mythologist from Mumbai, India. 
He is also a speaker, illustrator, and author of Hindu sacred lore, legends, folklore, fables, and parables. His work focuses mainly on religion, mythology, and management. 
Read more about Devdutt Pattanaik.
A modernized retelling of Ramayana
Introduction of new concepts and ideas