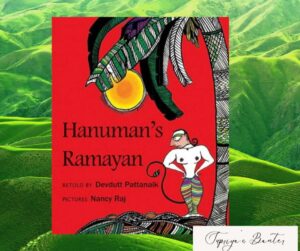 Hanuman's Ramayana 
Author-Devdutt Pattanaik  
Pictures- Nancy Raj 
Publishers-Tulika 
Age group- 6+ 
Rating-4.5/5 
Review- 
Rishi Valmiki has just finished writing his epic poem—Ramayana. Gods and Goddesses can't stop gushing over it. The vocabulary, grammar, meter, measure, and melody are near perfect.  
Valmiki is smug about his creation until sage Narada brings all his hopes crashing down. Having read a much better version and that too penned down by a character in the epic itself, Narada finds Valmiki's Ramayana a tad mediocre.  
Yes. You guessed it; the exemplary rendition is recounted by none other than Hanuman Ji. 
As expected, Sage Valmiki is not too chuffed by the unfair situation. He considers the monkey god only good enough to fly through the air, build bridges over the sea, or kill demons.  
According to him, it is unjust and wrong to designate Hanuman as a more nuanced writer.
Ultimately, the jealousy gets better of him and compels him to undertake an arduous journey. He trudges on a steep rocky path in inclement weather conditions with icy winds lashing at his face only to satisfy his urge to check out the competition. His search ends in a banana orchard amidst yellow and purple flowers, where he comes across Hanuman's Ramayana. With a heavy heart, he realizes that Narada was correct in his verdict.
On the other hand, Hanuman's reaction upon getting a whiff of Valmiki's predicament is a revelation. His level-headed calm, unaffected demeanor and poise is a learning in itself. The monkey god's instant, ingenious resolution inspires awe and reverence.  
Pattanaik emphasizes this aspect by drawing the reader's attention to Sage Valmiki. No more green with envy, the sage is left heartbroken, inconsolable, and devastated at the astounding conclusion.
The Mithila folk painting style illustrations add the quintessential charm to the story.  
Nobody does mythology like Pattanaik.  
The retelling of a timeless tale is gentle, quirky, humorous, and even dripping with human emotions. There is jealousy, fear, sadness, and misery, too. Pattanaik's narrative normalizes the feelings and spotlights kindness and self-belief as the most important virtues—the values that conquer all. 
Verdict- 
A peek into the ever-expanding world of mythology, the book knocks down stereotypes and rigid ideas without trying too hard.  
Just what you would want your young ones to believe.  
Isn't an open mind coupled with an open heart the only way forward? Hanuman's bold and self-assured remedy is a testament to that.
****
Read the review of other books by Devdutt Pattanaik:
The Girl Who Chose: A New Way of Narrating the Ramayana
The Boys Who Fought: A New Way of Narrating the Epics
Pashu: Animal Tales from Hindu Mythology
****
About the author- 
Devdutt Pattanaik is a mythologist from Mumbai, India. 
He is also a speaker, illustrator, and author of Hindu sacred lore, legends, folklore, fables, and parables. His work focuses mainly on religion, mythology, and management. 
Read more about Devdutt Pattanaik.