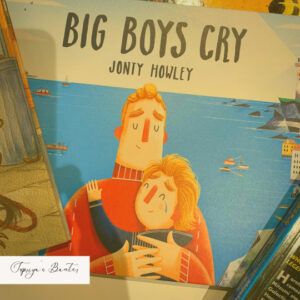 Big Boys Cry 
Hardcover–Picture Book 
Author/Illustrator-Jonty Howley 
Publisher‏: Random House Books for Young Readers 
Language‏: ‎ English 
Hardcover‏: ‎ 48 pages 
Reading age‏: ‎ 3 – 7 years 
Rating-4/5
Is it okay for big boys to show their sentiments? Is it alright for them to be vulnerable? Does being sensitive equate to being weak? 
Howley tackles these questions in this picture book and illustrates how it is okay for everybody, regardless of age, gender, or circumstances, to give in to their emotions and shed all the tears they want. 
It's Levi's first day of school, and he is flustered. Not knowing better, Papa (depicted as a single parent) reiterates the line he had learned from his dad to Little Levi. "Big boys don't cry," Papa tells Levi. 
As Levi wades his way to school across a boardwalk, a busy town square through his seaside town, he grapples with his feelings. He is baffled by the tears and emotions bubbling through the men he encounters — A fisherman setting off on a long trip, harpists and poets moved by art and passion, grandparents stirred by love and whatnot. 
The illustrations in soft pastel colors match the tone of the sensitive storyline. Full-page spreads in pastel hues bring the quaint seaside town alive. 
The end is heartening and uplifting. Levi's father's honest admission of his fears, parental insecurities, and nervousness make for an impactful reading. His emotional openness and eagerness to discard jaded beliefs are a peek into modern parenting. 
A compassionate story! Something that many of us need to hear again and again!